Kitting in warehousing is a strategy used by many companies to meet consumer demand. Knowing the types of products kitting is used for and the benefits that can be gained is important. This information allows businesses to decide if they should utilize warehouse kitting services.
Warehouse kitting is used to combine multiple product SKU's into a single unit that is then sold to consumers. Popular examples of the products that result from kitting include gift baskets, subscription boxes, custom-ordered merchandise. When deciding to use warehouse kitting services, there are important details that need to be considered.
In the guide below, we'll take a look at the basics of warehouse kitting, the benefits it offers, and where to start when implementing.
What is Kitting in a Warehouse?
To understand whether kitting is going to be the right choice for your business, you must have a solid grasp on what the term truly means. Kitting is tied directly to the fulfillment of orders. Kitting is the process of combining multiple units together to create a new unit. These form ready to ship kits instead of individual items that are picked and packed. This service is performed for a wide variety of industries including consumer electronics, e-commerce, retail, and even fresh food.
Some examples of units that are created through kitting include:
A monthly subscription box consisting of various childrens' books

A 20 piece kitchen utensil set that consists of utensils that can also be purchased separately

A holiday gift basket including 5 items that a consumer selects

A 5-movie box set
When discussing kitting, the term unit refers to SKU's, or Stock Keeping Units. Each SKU is tracked separately for inventory and revenue tracking purposes. The best way to think about this is that the kits will be created with items that are grouped together into one package rather than several. They can then be supplied to buyers as one particular unit.
Looking for a solution to store and ship your products seamlessly? Let R+L Global Logistics be your fulfillment and distribution partner.

Why is Kitting Used?
Now that you understand what kitting is, it's important to understand its' purpose. Not every business will want to implement kitting services, so knowing the purpose and when it's useful is important. Listed below are some common reasons that businesses choose to use kitting services
Looking to Cut Distribution Costs
In some cases, it's possible to reduce distribution costs by utilizing warehousing kitting services. There are a few different ways that companies do this, but it all starts by analyzing sales data. This is because kitting often involves combining SKU's that are frequently purchased together into a new "kit" SKU.
For example, an online retailer that sells office supplies might notice that customers frequently purchase a pack of pens, a legal pad, and a padfolio together. In this scenario, the retailer may consider combining the three items into a kit that is pre-assembled and ready to ship as a single unit. This can reduce pick and pack costs if pre-assembled kits are created thereby reducing picking fees which most warehouses charge for every item that is picked. Companies can also create custom packaging that reduces the weight of the shipments, in turn reducing shipping costs.
Provide More Choices for Customers
Kitting can also be used to give customers additional choices. Offering pre-built options for customers to choose from can put them in the driver's seat of their purchase. For example, a company like Nintendo offers pre-packaged console sets that include a pack-in game, and 1 accessory. By offering multiple sets, consumers feel empowered to choose the one that they like. On the distribution side, this can also keep warehouse fees low since the sets are already packaged together.
Offload Poor Selling Inventory
After analyzing sales data, a company might discover that a few related items are selling well, but one or two are performing below what's expected. When this occurs, an additional problem can pop up which is excess inventory. When a business has more inventory available than they want, they need to do something about it. Kitting is one solution to this problem.
Back to the children's books example. Let's say the company has 10 children's books that are all related to the same topic, but 2 of the 10 aren't selling well. The business should consider selling a "bundle" of books that includes the top sellers along with the two that don't sell as many at a value price. If marketed properly, this should lead to an adequate amount of sales of the bundle which will solve the inventory problem and increase revenue.
If you're not sure kitting is a good option for your business, consulting with an experienced 3PL like R+L Global Logistics is a good idea. We've provided kitting services for business in all types of industries, so we understand what works and what doesn't.
What Are the Benefits of Warehouse Kitting Services?
One of the biggest benefits of warehouse kitting services is that items are processed in bulk rather than individually as each item arrives, meaning that processing the items is a lot faster. If a company currently manages their own order fulfilment, then they will find that outsourcing this task to a 3PL provider will help to streamline this process and save them money in the process as a whole.
Another benefit that you need to consider is that there are far fewer shipping mistakes when items are shipped as a kit. Items that have been shipped as part of a kit reduces the risk of there being some kind of error in the fulfilment process. It is also important to think about how much time it takes to print out a shipping label after you have weighed each individual item. When items come as part of a kit, it is going to take a lot less time as you will be able to pre-print the labels to save on time.
As noted above, it's also possible for you to save a significant amount of money. There will likely be savings no matter what amount of product that you're shipping. However, the larger volume of goods that you're shipping, the more you have to save by implementing kitting services.
Looking for a solution to store and ship your products seamlessly? Let R+L Global Logistics be your fulfillment and distribution partner.

Why Accuracy is Important in Kitting?
You might assume that the main focus on kitting in warehousing is going to be on delivering the most rapid solution possible. This is certainly one of the goals. However, it's important to realize that it is not the only consideration. It's also vital that a high level of accuracy is established. It's easy to understand why accuracy is an important factor to be kept in mind.
The main determination of the success of a manufacturer distributor is not always cost savings. Instead, it's based on customer satisfaction and whether customers choose to remain loyal. Obviously, one of the most important ways to keep customers satisfied is by ensuring order accuracy.
This has lead to the need for businesses to provide distribution at a more rapid pace without it impacting levels of accuracy. I This is going to be a crucial element when exploring overhead costs. Items that are kitted incorrectly can lead to costly returns and decreased customer loyalty. That adds time and money onto the fulfillment process.
There are also a range of issues that quickly become apparent due to low levels of accuracy. This includes issues with:
In some cases a customer could receive half of one kit. This leads to them requiring a new order and in some cases demanding a discount or a full refund. Ultimately, this is going to lead to machine downtime, more needed manpower and higher lead times. These are just some of the reasons why accuracy needs to be a clear focus through kitting in warehousing.
If you're unable to manage the kitting process on your own, it's important to allow an experienced warehouse and 3PL provider to do it for you. R+L Global Logistics has the necessary knowledge and experience to properly handle the job for you.
How to Improve Kitting in Warehousing Services
Learning how to optimize the kitting process is going to be important if you are looking for a way to make the entire process more cost-effective. If you want to do this, then having a clear cut strategy to follow is going to be vital, which is why we are now going to look at some of the ways that you can improve kitting in warehousing services.
The first thing that you can do is make sure that the operational areas are designed in such a way that can help to minimize bottlenecks and inefficiencies. When you are designing these operational areas, you need to make sure that you are doing this with the workflow in mind, otherwise, you might end up missing out something that is crucial to keeping the entire process efficient. Counting the amount of steps and seconds it takes to get from the kitting area to the products may seem like nitpicking. However, these steps and seconds certainly add up and can be costly if it's not efficient.
When you are organizing the warehouse, it is important to ensure that it is set up in such a way that eliminates confusion. The picking areas and the warehouse need to be clearly marked to give the teams the help they need and make sure the processes they need to complete are optimized. This could be anything from picking, to assembly and kitting, to then move on to packaging and distribution. Just make sure that the warehouse is set out in such a way that makes this as easy as possible for your employees.
If you have a manual team completing the kitting process, then they need to be trained so that they can work at a consistent pace in order to avoid bottlenecks. This will make sure your team are kitting as efficiently as possible. As well as this, you should make sure that you have got breaks scheduled for your teams after they have been repeating the same actions for a long period of time. Tired employees are more likely to make mistakes.
It is true to say that mistakes cost a company more money than taking the time to check for quality during the process. For this reason, to improve kitting in warehousing services, you should make sure that you have spot checks at crucial moments through the process. This will help to ensure that accuracy and quality are being kept as the most important goals rather than speed.
If you are sourcing multiple kitted items from the same supplier, it would be a good idea to get in touch with them and see if they can send you bundled kit. This will make the process much easier when the items arrive at your warehouse as they won't all be the individual components, meaning your team don't have to assemble the kits at all.
You need to ensure that you have a solid plan for shipping replacement components. Errors happen, and you need to be on top of the situation if someone receives a kit that is incomplete or damaged. Having a plan will help you improve your customer experience, even if something does go wrong with the original kit.
Finally, you need to look at whether it is going to be best to do pre-packaged kitting or on-demand kitting. Which type is going to depend on your business and how much demand there is for the products you sell. Make sure to look at your demand forecasting plan as this will help you figure out which one you should choose.
How to Manage Kitting
There are three ways in which you can manage kitting in your warehouse. To do this, you need to look at the logistics side of the process, and think about the three things that we are now going to look at.
The first thing that you can do is handle the kitting in house. The main thing that you are going to need to think about if you want to handle the kitting in house is a good inventory management software. You need to make sure that you have software that can do the following:
Track stock levels for your SKUs

Create low stock alerts and generate

purchase orders

when necessary

Update stock availability to online stores

Include the inventory location on packing slips to make order picking faster
The second option is that you could use a fulfilment center. You can use a 3PL to stock and ship your online orders. A company like this can receive your stock, pre-pack your kits and then store and ship everything.
Or third, you can use product manufacturers and vendors. You can ask your manufacturer if they mind kitting your items, but only if you are ordering a large bulk of them. Many will offer this service for an additional cost.
Looking for a solution to store and ship your products seamlessly? Let R+L Global Logistics be your fulfillment and distribution partner.

How Can a 3PL Help with Kitting?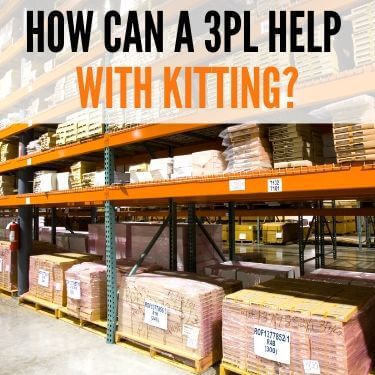 You might be wondering how to handle kitting the right way. There are a few options to consider here but one of the best choices is to contract with a 3PL company. To understand how a 3PL can help, you first need to be aware of what this is.
3PL stands for third party logistics. This is a business that you can outsource areas of your logistics to and this includes:
Supply chain management

Distribution

Warehouse management

Fulfilment services
As you might expect, by outsourcing to a 3PL warehouse company, they will handle kitting for you. They will make sure that you are provided with an efficient service which delivers the results you need for a high level of performance on the market. Ultimately, you won't have to worry about problems with inaccurate kitting or slow distribution times. As such, you will be able to make sure that you achieve a high level of customer satisfaction by delivering the level of service that they both want and expect.
A key thing to remember when selecting a 3PL service is that they will provide everything required to ensure that this service is effective. For instance, they will use the latest technology and equipment to guarantee that processes can be automated where possible. They will also hire the staff that's needed. The aim here is to deliver a completely stress-free experience to you and ensure that this is one area of your business that you won't need to worry about. Instead, everything will be taken care of for you with a high level of expertise. With a 3PL, you will also be able to decrease inventory space and this will ensure that you can save money on the storage area required for your items.
Want to know more? Check out A Guide to 3PL Partners.
Need Help With Kitting?
Are you interested in introducing kitting as part of your business model? If so, then don't hesitate to contact R+L Global Logistics. We have over 20 years of experience as a 3PL company and have provided kitting services and more to businesses in a variety of different industries and sectors.
Our aim is to deliver a cost-effective solution that provides the savings you need in your business model. At the same time, accuracy is of the utmost importance and never sacrificed. To ensure that kitting in warehousing is completed correctly, it's important to have the right setup.
We'll make sure that is the case by introducing the latest equipment and technology to deliver a solution that exceeds your expectations. We can completely customize the solution that we provide so that it perfectly matches the needs and requirements of your business.
When you're ready to get started, give us a call at (866) 989-3082 or request a quote by clicking Get a Quote below. We're ready to handle all of your distribution and logistics needs.
Looking for a solution to store and ship your products seamlessly? Let R+L Global Logistics be your fulfillment and distribution partner.