When it comes to fulfilling orders, retailers are often torn between direct shipments vs drop shipments. Figuring out which shipping method works best for your business is essential when you're a retailer or supplier. But before you can determine which method that is, it helps to know some of the benefits of each.
The main difference between direct shipment vs drop shipment is this: Direct shipping is best for suppliers that want to ship directly to their customers, rather than using retailers or wholesalers. Dropshipping is best for retailers that are just starting up and that don't have the time or means to run their shipping operations.
Throughout this article, we'll discuss what these shipping methods entail and the benefits of using each.
What Are Direct Shipments?
Direct shipping is a fairly straightforward shipping method. The supplier is responsible for handling shipping goods directly to the customer. Additionally, after the supplier ships the goods, they will not stop at any other part of the supply chain.
What Are Drop Shipments?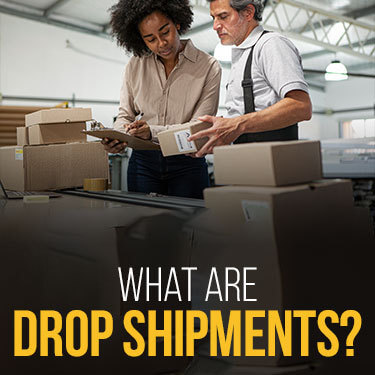 With dropshipping, online retailers don't keep their product offerings in their store. When a product is bought by a customer on the retailers site, the retailer will have to order the same product from their supplier. As with the direct shipping method, the supplier is then responsible for all shipping responsibilities.
Difference Between A Direct Shipment Vs Drop Shipment
The difference between these two types of shipments is that direct shipping is nothing more than a shipping method. It also removes any need for a distribution channel. That means wholesalers and retailers are not necessary when using direct shipping. Drop shipments, on the other hand, are not simply a shipping method. Dropshipping is a business model that many aspiring business owners use
Benefits of Direct Shipments
Besides cutting out middlemen like retailers and wholesalers, direct shipping has numerous benefits for those that use it. The benefits of using direct shipping are:
Faster shipments
Safer travel for products
Increased control over logistics
Reduced inventory and warehousing
Shipping Is Faster
Direct shipping is much faster than other forms of shipping, which allows for quick order fulfillment. Products that are shipped using the direct shipping method won't be sent to a retailer's distribution center. They will travel straight from the supplier's location to the customer. Since less stops are made, the product will arrive quicker than usual.
Safer For the Products
Direct shipping is much safer for the products themselves. More stops along the journey mean your goods will be handled each time they reach a destination. This will also increase the chances that your goods can become damaged.
With direct shipments, your goods won't be handled as much since a direct shipment travels straight from the supplier to the customer. Since fewer people will be handling the product while it's in transit, the likelihood of the product sustaining damage will be.
Increased Control Over Logistics
Since the supplier is the one sending the goods, they're responsible for finding the logistics provider that will transport the goods to their customers. While this might create extra work, it allows the business to choose a carrier that they prefer.
Reduced Inventory Costs In Warehouses
When dealing with retailers or wholesalers, you're bound to incur some type of inventory warehouse costs. Fortunately, direct shipping eliminates this problem because goods are shipped directly to the customer. This also means you won't need to use an inventory management system to keep track of goods within your warehouse.
Looking for a solution to store and ship your products seamlessly? Let R+L Global Logistics be your fulfillment and distribution partner.

Benefits Of Dropshipping
Since drop shipping is a business model rather than a shipping method, many of its benefits go beyond what it can do for a business's shipping expenses. Some of these benefits include:
Cheap startup costs
Flexible work quarter
Scalability
Large variation of products that can be sold
Cheap Startup Costs
One of the benefits of dropshipping is that it doesn't cost too much money to get the business started. Since a dropshipping store starts online, you won't need large sums of money to open up a physical store or buy products to fill it up with.
This benefit in particular is one of the reasons that dropshipping has grown so much. The table shows the projected growth of drop shipping over the next several years.
Projected Growth Of the Dropshipping Industry
| | |
| --- | --- |
| Year | Growth In Billions |
| 2023 | $243.42 |
| 2024 | $301.11 |
| 2025 | $372.47 |
| 2026 | $476.10 |
Flexible Work Quarters
Dropshipping provides you with a flexible work environment. Free from the constraints of an actual store, you'll be able to run the operations of your online business from wherever you want. As long as you have at least a laptop and an internet connection, you'll be able to run your business from anywhere.
Easy To Scale
It's much easier to grow your business with dropshipping. The only time your workload will increase is when your order count increases as well. Other than that, the majority of the work done when drop shipping is taken care of by the supplier.
Large Variety Of Products To Sell
There are numerous amounts of inventory out there that potential customers could buy. You won't be purchasing these items to stock them in your store, so you won't have to worry about losing money if the product doesn't sell. This also allows you to test which products are popular with customers and which ones are not.
For more in-depth information about dropshipping, look into our article about the dropshipping process.
Which One Is Better?
Direct shipping and drop shipping might each have their unique differences, but you can't say one is better than the other. The one that works best all depends on the needs of the business.
For example, direct shipping is the shipping method that many suppliers find the most useful. They can avoid the hassle of using a retailer or a wholesaler by shipping directly to the customer themselves.
Dropshipping on the other hand is very useful for business owners that want to be online retailers for suppliers. This business model allows business owners to start up their operations easily and quickly start earning income from it.
Suppliers can even benefit from dropshipping. If a supplier doesn't have an online presence, they rectify the problem by partnering up with online dropshipping stores to get their products out there.
If you're trying to find out how to start a dropshipping business, then follow our article that goes over the six essential steps that you need to follow to successfully start one.
Let R+L Global Logistics Handle Your Fulfillment Needs
If you need help getting your fulfillment needs taken care of, then look no further than R+L Global Logistics. We offer a plethora of fulfillment services for all of our customers. Some of these services include:
Cross-docking
Transload
Expiring Product Fulfillment
3PL Warehouse
Reverse Logistics Services
These are just a few, but we provide plenty more. Fill out your free quote today and have all of your fulfillment needs taken care of for you.
Looking for a solution to store and ship your products seamlessly? Let R+L Global Logistics be your fulfillment and distribution partner.