How the logistics industry works can be a difficult concept to wrap your head around, since it isn't confined to only one specific area of business. Though it can be defined as the business of getting products from their place of origin and delivering them to the point of consumption, the process itself is far from that simple. Not only does logistics management handle the effective transportation and storage of goods, but it also deals with clearing border customs, fulfillment, delivery, returns, and so much more.
Third-party logistics (3PL) companies handle the movement of goods from one place to another on behalf of other companies. This includes, but is not limited to:
Transportation
Customs clearance
Storage
Warehouse management
Fulfillment and distribution
Reverse logistics
When combined, all of these processes make the logistics industry work.
How Transportation Works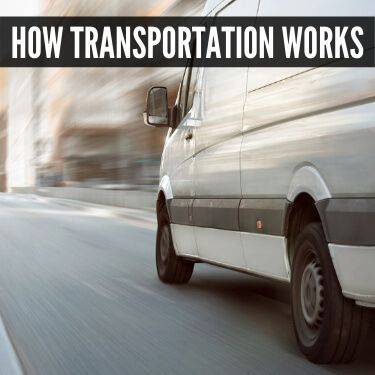 The logistics and transportation industries rely heavily on each other, and communicate to find the most efficient and effective way of transporting freight through the use of different modes, including air, ocean, ground, and rail. These transportation modes each come with their own benefits and drawbacks, and work together to provide the best combination of services for any business, both domestic and global. 3PL transportation management ensures safe material handling and speedy deliveries.
Air
Air freight service is the fastest possible way to get cargo from one place to another. Shipping times can be cut down from weeks to mere days, but the speedy delivery comes at a considerable financial cost. The fuel needed to get the cargo airborne is pricey, so this mode of transportation is one of the most expensive options for moving freight. When shipping perishables, like food, flowers, or pharmaceuticals, it is worth the extra money to ensure that the freight reaches its destination in time before it spoils.
With that being said, there are many benefits to using air freight services besides the speed of delivery. All cargo flights can be monitored and tracked 24/7, 365 days of the year, so the location of the cargo is never a mystery. An accurate estimated delivery time can be provided, and businesses can get notified the moment their freight touches down at the airport. This service makes air freight ideal for shipping high-value or high-risk products, like electronics or luxury items. Cargo thieves would need to be pretty crafty to get to an aircraft 35,000 feet in the air, going 600 miles per hour. Understandably, this keeps cargo much safer in transit than a truck or train would be able to. Even after the cargo has reached an airport, there is never a time when someone isn't around to monitor it, so the opportunity for theft is extremely low. As an added bonus, high-value and high-risk cargo is closely inspected before takeoff, and after arrival, to make sure nothing has been damaged or tampered with.
The biggest downside to air freight services is the limitations to what can be shipped. Items that are too large or heavy, like large machinery, cannot be shipped in an aircraft because of weight concerns. Items that do not stack well or are an odd shape are typically not shipped as air freight, since there is no efficient way to pack them. Airplanes are expensive to fly, so air freight companies don't want to make a special trip to transport a product that doesn't make the most efficient use of the space.
Ocean
In contrast to air freight, ocean freight is slow. So slow, in fact, that it could take more than a month for the shipment to get where it needs to be, depending on where it is shipping from, where it is shipping to, and weather conditions that may delay departure. It manages to make up for its snail pace with its capacity, though. One cargo ship can carry roughly 20,000 twenty-foot equivalent units (TEU), which can be more than 200,000 tons just in cargo! Some ships are designed to withstand even more weight, though they may not be let through certain canals that are too shallow.
The ability to carry that much cargo at once comes with many benefits. It makes it actually more efficient than air for large shipments, because an aircraft would need to make several trips to even come close to what a cargo ship can do in one. It is also far better for the environment than air carriers, since they can make fewer trips and do not burn anywhere near as much fuel. Shipping with ocean freight allows for tremendously cheap shipping costs, since so much can be shipped at once, which translates to a better value for the customer.
Another benefit to using ocean freight is that there is almost no limit to what can be shipped. Cars, oil, machinery, and hazardous materials are all fair game for ocean carriers. Cargo ships are also the carrier of choice for anyone shipping metals, ores, and minerals, given the notoriously high weight to size ratio of the materials that makes them too heavy to ship via air freight. The best way to ship anything in bulk is with ocean freight too, and it is a perfect option for products that are not time sensitive.
Looking for a solution to store and ship your products seamlessly? Let R+L Global Logistics be your fulfillment and distribution partner.

Ground
For domestic shipments, the go-to option is almost always freight trucks. It is a good compromise for both speed and shipping costs, and it works well for long or short distances. Trucks are easy to monitor and track with GPS, which is great for shipping high-value or high-risk freight. It is also possible to get in touch with drivers to check on the products every few hours, making it easier for customers to relax knowing that their freight is safe and in good hands.
Although there are size and weight requirements for most freight trucks, a flatbed truck is able to allow for the shipment of oversize loads, like cranes and other construction machinery, pre-built homes, and large tanks. Other services offered by freight trucks are temperature control, door-to-door service, and scheduled Just-in-Time (JIT) delivery. JIT delivery is an important aspect of manufacturing and eCommerce, since it delivers raw materials or products to their manufacturing plant or distribution center exactly as they are needed.
Rail
Even though trucks are capable of going long distances, at a certain point it becomes more cost effective to use rail services. In addition to cost efficiency for long distances, trains are able to pull up to 100 cargo wagons. That translates roughly to a carrying capacity of over 400 freight trucks! Fewer trips means less time, fewer drivers, and less money spent. Trains are also more fuel efficient than trucks and release less CO2 into the atmosphere, so it's better for the environment.
Intermodal
An extremely high level of planning goes into every part of logistics transportation, and that is never more obvious than with intermodal shipping. Intermodal shipping is the process of using different modes of transportation for the same shipment, to get the best possible value for the customer. This could involve shipping something as air freight overseas, loading it onto a freight train once it reaches land to cover long distances, and then moving it to a freight truck for the final stretch. The great level of flexibility allows customers to tailor their cargo's journey to fit their individual needs, and shipping budget.
Trade Show Logistics
Most 3PL companies offer Trade Show logistics services. Large companies that want to set up a booth at a trade show must find a way to get their equipment and displays to the trade show location. 3PL logistics companies are the way to go in this situation. Not only will they transport the equipment to the indicated location, but they can also pack and unpack, store everything, and move from location to location instead of just back to the place of origin. They can even ship to and from international trade shows, with expedited delivery.
White Glove Services
When a shipment requires special attention, either because it is pricey or fragile, 3PL companies can offer White Glove Services for a greater degree of care and attention in the handling of packages. These services, though different for each company, typically include a larger team to handle and monitor the products, special equipment for automation and delivery, custom consolidation, careful tracking, and quality assurance. This is to ensure that the products are in perfect condition when they arrive at their destination, and they arrive on time. The goal of White Glove Services is to go above and beyond the expectation, and provide the best possible customer experience.
How Customs Clearance Works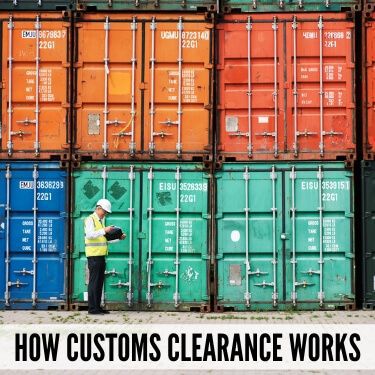 Special considerations must be made for shipments moving internationally, and not just because of geographical barriers. Anything coming into the United States must get through customs first, and that is not an easy process. In order for a shipment to be allowed to pass over the U.S. border, a shipper must first secure all the required documentation, and be in compliance with all applicable laws. Much of this process depends on the type of item being shipped, but some requirements are universal, such as a Customs Bond, a commercial invoice, and a Bill of Lading. These documents must be cleared with customs agents at the U.S. port of entry that the shipper intends to come through.
Customs Bond
A customs bond has many different names, but don't be fooled. A customs bond, a surety bond, and an import bond are all the same thing. No matter what you call it, you're going to need one if you want to import anything into the United States. That's because a customs bond ensures that the importer will pay back all the duties and taxes owed on the import, and protects involved parties if the importer refuses to pay. There are two different types of customs bonds available, depending on the circumstances of the import and the importer's schedule of future shipments. Those two types are Single Entry Bonds and Continuous Bonds.
Single entry bonds

are the best type of bond to utilize when an importer has only one shipment to make, and needs a bond to get that single shipment through the U.S. port of entry. It is ideal for low-cost shipments. An importer can get as many of these bonds as needed, but it stops making financial sense after three or four shipments in a single year. In a case where an importer needs to make multiple shipments in a year, it would be better to get a continuous bond.

A

continuous bond

will allow an importer to import many times in a single year, and it can be renewed annually for continuous importing. It can be used as many times as needed, and it is not limited to a single U.S. port of entry. Any shipment considered to be high-value, or valued more than $2,500, will need to be covered by this type of bond too, even if a shipment is only being made once.
Looking for a solution to store and ship your products seamlessly? Let R+L Global Logistics be your fulfillment and distribution partner.

Commercial Invoice
All imports must be accompanied by a commercial invoice, which is a document that outlines details of the transaction and product. Details include:
A description of the items being shipped

The shipment's weight

The shipment's value

The shipment's quantity

The reason for importing

All companies involved with the import

The signatures of all required persons

The addresses for the place of origin and the destination

And Contact information for all involved parties
The commercial invoice must include the product's Harmonized Tariff Code, which is a specific ten-digit code that applies to the product. Any code can be found on the Harmonized Tariff Schedule of the United States (HTSUS) website, where a search feature can help with figuring out exactly how to classify any item. Once an item has been classified, the code informs the U.S. Customs and Border Protection (CBP) of the value of the import, so the appropriate taxes can be applied.
Bill of Lading
A Bill of Lading (BOL) is like a receipt of the goods being shipped. It includes a list of all the different items being shipped, as well as the individual costs of each one. Like the commercial invoice, it also lists the parties involved with the shipment, including the 3PL company, shipper, and receiver. Additional instructions will be printed on the BOL about how the packages should be treated, which is important if an item needs to be treated with care, kept upright, or refrigerated.
The BOL will note the details of the trip that the shipment makes, including how and when it is shipped. It will show exactly when and where a shipment will change shipping methods, like a move from sea, to rail, to trucks, before reaching its destination. Without a BOL, a shipper does not have concrete proof of their contract with the 3PL, or even their ownership of the goods! Needless to say, a BOL is an extremely important document that is absolutely necessary for importing anything.
Customs Brokerage
If all the paperwork and organization involved with importing goods into the United States feels overwhelming or confusing to an importer, they have the option of employing the services of a Licensed Customs Broker, otherwise known as a Customs Bond Agent, to help with the process. Customs brokers are licensed professionals in the field, and they know the process of importing better than anyone. They can offer many services to make the process of importing simpler.
Customs brokers can assist with:
Applying for paperwork

Assisting with filling documents out

Working with the 3PL company

Ensuring legal compliance

And clearing customs
Working with a customs broker can ensure that a shipment does not encounter any problems while getting through the U.S. port of entry. They can also speed the process up to give business owners more time to delegate to other aspects of their business. In other words, customs brokers are the solution to any of the stresses associated with importing shipments into the United States.
How Warehousing Management Works
Running a warehouse is a lot more complicated than storing boxes in a big room. Warehouses must be tightly controlled and monitored, to maintain smooth operations and ensure that the space is being used efficiently.
Storage
Warehouses need to make the most out of their space, in order to maximize profits. A disorganized floorplan can lead to a loss in revenue, so it's important for 3PL warehouses to carefully plan out the organizational layout of the products they plan to store. In order to plan how to arrange products, information has to be gathered for every different product, like how heavy it is, and whether it can stack safely or not. Certain items may require specific accommodations, so that must be taken into consideration as well.
To help with organization, warehouses are typically full of shelves, pallet racks, and mezzanines. Racks and shelves are the most basic way of increasing usable space, but they remain one of the most efficient. By expanding upwards, warehouses can free up floor space for more products or shelves. However, shelving requires utilizing equipment like forklifts and cranes to move products to and from the higher shelves.
Mezzanines are another great option for increasing space, but instead of resembling a sort of shelf, it is more like an additional floor. It is an elevated platform with stairs going up to it, and it can be stacked on or have equipment or stacked products underneath it. It can be a temporary or a more permanent option, and it can be moved around the warehouse as needed. The temporary and portable aspects make it especially helpful during busy seasons, like summer or Christmastime.
Looking for a solution to store and ship your products seamlessly? Let R+L Global Logistics be your fulfillment and distribution partner.

Warehouse Management Systems
The process of planning, implementing, and controlling procedures in a warehouse can be a monumental task, which is why special technology is often used to help make the process easier. A Warehouse Management System (WMS) is a software system that streamlines warehouse processes, accommodates the fluctuating flow of goods, and makes it much easier to track everything. A good WMS eliminates the need for paper records, and keeps track of everything that goes on in the warehouse. It allows business owners to accurately monitor their stocked products, and helps warehouse workers locate specific items anywhere in the building immediately.
Something else that a warehouse management system allows for is a direct digital connection to online stores. Business owners can link their online store to the warehouse that they're storing their goods in, using the WMS. The second that an order is made in the online store, the warehouse is notified so it can take stock of the items, notify the seller to reorder any necessary items if the stock is insufficient, and if the warehouse has distribution capabilities, then it will complete fulfillment on the order. This allows for a streamlined inventory management process, with little margin for human error.
Track and Trace
When a good WMS is involved, fulfillment centers can offer complete real-time visibility on the status of a shipment, through the use of tracking and tracing in their transportation and warehousing processes. Tracking a product is the process of monitoring where a product is, and where it goes. This can be done with check-ins at each location the products arrive in, and GPS tracking technology. This gives business owners and customers a good idea of where their products are, and when they will arrive.
Tracing is a little different from tracking. Instead of monitoring where the product goes, tracing is the process of keeping track of where the item has been in the past, and keeping a record of it. This is especially helpful if something goes wrong and the product is damaged. If the product was in good shape when it left the warehouse, then it's path can be traced to other processing locations where the damages may have occurred. The problem can then be dealt with at the specific location, to ensure better care and quality assurance in the future.
Tracing can also be important for returns or refunds, when the customer is not being completely honest about the conditions of the refund. Say, for example, a customer claims they never received their product and wants a refund. The company can trace the package's path right to their door, and determine that the customer is being dishonest. This allows a business to confidently deny fraudulent claims, and helps to protect them both legally and financially.
Reconsignment
If everything goes as planned, then the freight should reach its consignee, or buyer, within a few days. However, sometimes things can't be executed perfectly. When problems arise mid-shipment, the fulfillment company must be alerted immediately. Maybe the original location is no longer fit to take in the products, or the consignee moved to a new location. Maybe the rights for the shipment changed responsibility entirely. In cases like this, the goods must be rerouted before they reach their destination. The consignee, or someone equally qualified to make decisions on their behalf, must file a reconsignment request form with their shipping or 3PL company. Depending on the conditions, the company may require a reconsignment fee to be paid before the request is accepted. Often times, the more notice a company gets in advance, the cheaper the fee.
How Distribution and Fulfillment Works
In addition to warehouses, there is another type of storage facility that logistics companies utilize. A distribution center is like a warehouse in many ways, but it offers many more features to help serve its customers in the best way. Distribution centers typically have most, if not all, of the features of a normal warehouse. In addition to that, however, they also offer order processing, demand planning, and fulfillment options, which is an ideal solution for eCommerce business.
Fulfillment
Fulfillment starts before the products even arrive at the distribution center. The paperwork is submitted digitally with the Electronic Data Interchange (EDI), and the warehouse is organized to anticipate the arrival of the goods. As soon as the freight trucks pull up to the docks, the distribution center staff unload the products, sort them, and register them in their WMS. The products are stocked on shelves somewhere in the distribution center, the exact location of which is mapped out in the WMS database. This allows personnel to locate any specific product out of their entire stock in seconds.
A process known as "Pick-and-Pack" cuts down on the costs of shipping the order, because the one box will need to be handled far less than a collection of boxes all going to the same location. The process can be completed in only a few steps, and can really save time for all parties involved:
When an order comes in, either from the customer's online store, a call in, or for restocking physical shelves in a store, the distribution center is automatically notified.

Workers pick the ordered items out of their boxes and put them together.

The items are packed in the same box together, so the person who ordered the items will receive only one box with all the items, instead of a different box for each item.

From there, the order is loaded back onto another freight truck, and taken to a delivery service center.

There, it is loaded off of the freight truck and inspected for quality control, and to double check that it is the correct package.

The package is loaded into a delivery truck with several other orders going out to people in the area, and it is delivered right to the door of the person that ordered the items.
This whole process usually happens within the span of only a few days. The faster an order can be fulfilled and delivered to the right place, the more satisfied the receiver will be with the business they ordered from. Satisfied buyers are more likely to buy again, so a quick fulfillment is key to a successful business operation.
Looking for a solution to store and ship your products seamlessly? Let R+L Global Logistics be your fulfillment and distribution partner.

Demand Planning
Demand planning is an important process in how the logistics industry works. It is the process of predicting the amount of demand that a product will have with consumers, to better estimate how many of a particular item to stock in a warehouse or distribution center. This involves considering the total sales from previous years, and the projected change in sales based on marketing efforts or industry changes.
The forecasted demand trends are typically influenced by several different departments in the logistics industry, including marketing, sales, finance, and supply chain, and it must go through several different levels of approval from managers in order to get accepted as the year's forecast plan. Many businesses that use demand planning utilize an Enterprise Resource Planning (ERP) system to integrate information from all departments into a single program. This works to create transparency and to make the process simpler for everyone.
Demand planning is important for 3PL distribution centers to implement, because it keeps items from going out of stock, or staying on the shelves for too long. Warehouses are meant for long term storage, but the longer something stays in a distribution center, the more potential revenue is lost. The WMS can make it easy to see how long each item has been on the shelves, so it decreases the likelihood of distribution centers housing items that are expired, deteriorating, or obsolete. Getting rid of those items makes room for items that will move through the process faster, and therefore increase profit.
How Reverse Logistics Works
Reverse logistics is, as the name suggests, when an item or shipment must move backwards through the supply chain. Sometimes this happens when an item needs to be recalled by a company. A statement is issued out about the reason for the recall and the items affected, either publicly or to anyone that owns the recalled product. Customers are then expected to send the items back, where logistics teams handle getting them to the warehouse, manufacturing plant, or other location.
Likewise, a customer can choose to return a product if they are unsatisfied with it, or if the product is faulty. When a warehouse receives a returned product, they can choose a variety of options based on the state of the item. If the customer just wasn't happy with the product as it is, it can be resold. If there is an issue with the product, it can be refurbished or repaired, and put up for sale again at a discounted price. If, however, the item is beyond repair, it can be sent away to be salvaged for parts, recycled, or scrapped completely.
A good reverse logistics policy can really make or break a customer's impression of a company. If they have a good experience with returning a product, they are likely to remember how the company was willing to help. However, if they get stuck with a product from a company with no return policy, they are likely to remember that too—and never return.
Need a 3PL?
R+L Global Logistics offers all of the above services, and more. If you're looking to utilize some of the convenient 3PL services that can streamline your business, then you need not look any further. Our flexible solutions and excellent customer service make transporting your freight a hassle-free experience! We can take care of the entire logistics process from start to finish, so you don't have to worry about the details of how the logistics industry works. Our experienced team can guarantee the safety and timely arrival of your freight.
If you're ready for a fulfillment and distribution quote, you can fill one out now. If you're not ready for that, you can give us a call at (866) 989-3082, or open the chat at the bottom of the screen to go over any questions you may have.
Looking for a solution to store and ship your products seamlessly? Let R+L Global Logistics be your fulfillment and distribution partner.