There are many types of warehouse storage systems that third-party logistics (3PL) companies utilize. Freight can come in all kinds of shapes and sizes that necessitate different storage methods. Each solution is unique and offers special benefits to both the 3PL and the shipper.
According to FreightWaves, the warehouse storage market had a strong 2022. This gives shippers better access to different types of warehouse storage systems.
Pallet racking systems
Wire partitions
Static shelving
Mobile shelving
Mezzanine flooring
Before picking a system, shippers must assess their needs to identify the best one.
Each type of warehouse storage system is unique and shippers should take the time to understand how they work.
Types of Warehouse Storage Systems: What Are They?
Storage systems are physical structures that optimize floor space inside a warehouse. Most warehouses offer more than one type of system in their operations. Combining multiple methods together increases a provider's ability to handle high volumes of freight.
3PLs can also accommodate freight of varying sizes and dimensions when they use different types of warehouse storage systems. This gives shippers the assurance that their freight will receive the proper care, regardless of size.
What Are the Different Storage Systems?
Each type of warehouse storage system has distinct advantages. Shippers should know what they are so they can better understand the options available to them.
1. Pallet Racks
Pallet racking is one system that 3PL retail shipping warehouses use to increase their storage space. Most shipments of freight are palletized when they arrive at a facility. Therefore, racking pallets is a convenient warehouse storage system that many providers take advantage of.
This storage system works by placing standard selective rack systems into multiple horizontal rows. Each rack has multiple levels where two pallets can be stored. There are a few variations of pallet racking the 3PLs will utilize.
They include:
Double deep racking
Pallet flow racking
Drive in racking
The double deep method utilizes two back-to-back selective rack systems. This allows four pallets to be stored on each rack level instead of two.
Pallet flow utilizes racks that are equipped with rollers. The racks are set at a slight slope that lets freight move from the high end to the lower end. These specialized racks make loading/unloading easier and provide high-density storage.
Drive-in racking is another variation 3PLs use to store pallets in their warehouses. Racks used for this method of storage have horizontal rails rather than a platform. Forklifts are able to load pallets on these racks by driving in between each rail.
While pallets are frequently used to carry freight through the supply chain, warehouses using this type of storage system are capable of storing non-palletized freight.
Some of the racking methods for this kind of freight include:
Coil racking
Cantilever racking
Carton flow racking
Coil racking is a storage method for goods that have to be wrapped like cables and rope. Bulkier products such as lumber and pipes utilize cantilever racking. Lastly, the carton flow method is utilized for small non-palletized boxes.
Regardless of what type of freight a shipper has, they can count on pallet racking and its many variations to keep their freight safe.
2. Wire Partitions
Wire partitions are a type of warehouse storage system that provides security to freight by caging in a section of the warehouse floor. Warehouse workers can install and remove these cages very easily. Freight that is bulky or awkwardly shaped is stored using this method.
This includes items like:
Tires
Hazardous chemicals
Wire partitions come in a variety of different sizes that accommodate the freight they're meant to contain. This option also provides a great storage alternative for freight that can't be kept on shelves or a pallet.
Looking for a solution to store and ship your products seamlessly? Let R+L Global Logistics be your fulfillment and distribution partner.

3. Static Shelving
Static shelving is a storage solution that 3PLs utilize for lightweight items. There are two ways that freight can be stored with this option.
They include:
Items are set on a shelf where they will be picked and packed
Items are set on a shelf inside the package they will travel in
Since these items aren't palletized, warehouse workers will have to place and remove them from shelves manually. Fortunately, the light weight of these items will make loading and unloading less strenuous for workers.
3PL facilities usually have a small amount of static shelves because the freight placed on them is continuously taken off and replenished. However, some 3PLs will keep wider and taller shelves so they can store more items.
4. Mobile Shelving
Mobile shelving is a variation of the static storage option. Instead of remaining in place, shelves are connected by rail systems built into the floor of the warehouse. These small rail systems allow workers in the facility to slide shelves back and forth as needed.
Some mobile shelves have motors with control panels installed on them. The motors and their control panels allow warehouse workers to move freight into different positions along the rail. Shelves like these are used to store larger quantities of freight that would be too heavy to move by pushing or pulling.
The mobile shelving storage system provides 3PL warehouses with the following benefits:
Safety
Efficiency
Increased storage capacity
Warehouse providers can use mobile shelving to store palletized and non-palletized shipments. This gives 3PLs better flexibility in their storing operations.
5. Mezzanine Flooring
One type of warehouse storage system that's very high-tech is mezzanine flooring. This solution utilizes platforms that are installed between the ceiling and the main floor of a warehouse. Mezzanine floors have stairs connected to them that make forklift access impossible. Therefore, only light and non-palletized freight can be stored on them.
Another feature of mezzanine flooring is that they can be stacked four levels high. Warehouse providers are able to optimize more space without the need for new or add-on buildings. Mezzanines can be added to an existing open warehouse without the need to modify the main structure.
Despite the high density storage they provide, mezzanine flooring is an expensive and intrusive operation.
Our article on how to keep track of inventory in a warehouse will show you how we'll keep tabs on your freight while it's in storage.
Which Warehouse Storage Solution Is the Best?
Choosing a storage system can be very difficult for shippers because they're so many options that are available. Shippers should examine their needs to determine which type of warehouse storage system will work best for them.
This includes taking into consideration:
How much freight they need to store
If the freight is palletized or non-palletized
How long they need storage for
The amount of freight a shipper needs to store is the first thing they should consider. For example, static shelving is useful for smaller amounts of freight because items are consistently removed and replenished. Pallet racking and wire partitions should be used when shippers need to store freight in bulk.
Second, shippers should consider if their freight is traveling on a pallet or not. There are many racking options that can be used for palletized and non-palletized freight. When bulkier goods require storage, wire partitions provide an excellent solution. Packages that travel loosely can be stored on static and mobile shelves or on a mezzanine floor.
Lastly, shippers should consider how long their freight needs to be stored. Any option besides static shelving will work for long-term storage.
Looking for a solution to store and ship your products seamlessly? Let R+L Global Logistics be your fulfillment and distribution partner.

What's the Difference Between Storage Systems and Inventory Management?
Many shippers confuse warehouse storage systems and inventory management. While they might seem similar, each of them has very distinct differences. Warehouse storage systems are used to load, unload and keep freight inside a facility for varying amounts of time. These systems don't generally follow items once they leave a facility.
Inventory management is used to oversee a wide range of logistical responsibilities, such as:
Processing
Storing
Tracking
Receiving
Sending
Essentially, warehouse storage systems make up one of the many responsibilities that inventory management is used to monitor. Another difference between warehouse storage systems and inventory management is how they're performed.
Warehouse storage systems utilize physical labor and different kinds of equipment to stockpile freight. In the case of inventory management, 3PLs access specialized software that lets them keep track of freight as it travels through the supply chain.
Check out our article on the benefits of inventory management for more information on this logistics operation.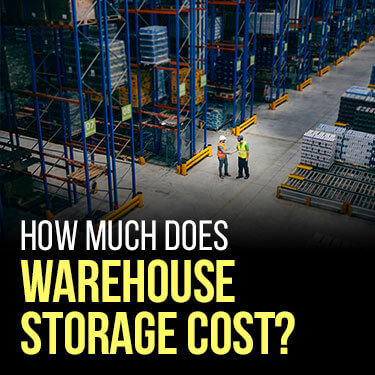 How Much Does Warehouse Storage Cost?
The cost of storing goods inside a warehouse can fluctuate on a case-by-case basis. Costs aren't determined by the system used to stockpile a shipper's freight.
Instead, warehouse providers charge storage fees based on three different factors.
Amount of space
Operating expenses
Base rental rates
A 3PL measures the amount of space freight takes up in a warehouse in terms of square footage. The amount a 3PL charges per square foot can fluctuate over time. The warehouse location also makes a difference.
Average Cost To Store Freight In A Warehouse (2020-2021)
| | |
| --- | --- |
| Rent Per Square Foot | Year |
| $6.34 | 2020 |
| $7.13 | 2021 |
Provided by Statista
The second component of warehouse storage costs is operating expenses. These expenses can be referred to as triple nets (NNN) or common area maintenance (CAM). The NNN/CAM expenses incorporate property taxes and required maintenance costs. Base rental rates are the last component of warehouse storage costs. 3PLs can charge shippers a monthly or annual base rental rate to store their goods.
To calculate their storage costs, shippers should do the following:
Determine how many square feet their freight takes up
Determine if the base rental rate is charged monthly or annually
Add the rental rate and the NNN/CAM
Multiply the resulting number by the amount of square footage the freight will take up
These steps will give shippers a rough estimate on how much a warehouse provider will charge them to store their freight. If you're worried about how much you'll spend, check out our article on reducing logistics costs.
Utilize Every Type of Warehouse Storage System With Fulfillment and Distribution
Fulfillment and distribution can provide every type of warehouse storage system for your freight shipments. Our warehouses provide safe environments for a variety of goods. We also have well-trained and experienced warehouse personnel who will handle your freight with care.
If you're not looking for storage, consider some of our other services:
With our services at your disposal, your supply chain will be operating at peak efficiency. You can get started by filling out a quote request or by contacting our team at (866) 989-3082.
Looking for a solution to store and ship your products seamlessly? Let R+L Global Logistics be your fulfillment and distribution partner.