If you're starting to find that you no longer have space for your merchandise, or the staff to manage it all, it probably means that your business is growing. And that's a good thing! Unfortunately, it might also mean that you're outgrowing your current needs. If you're in need of a quick solution, one option that may be able to help solve your problems is contract warehousing.
Outgrowing your current situation is a good problem to have, but it's also one that needs to be addressed. Contract warehousing can be custom-tailored to meet your exact needs, including increasing warehouse space, outsourcing logistics, and order fulfillment. Businesses are also likely to experience improved reliability, efficiency and cost-savings. 
Our complete guide below provides you with everything you need to know about contract warehousing. 
What Is a Contract Warehouse?
Simply put, a contract warehouse is a facility run by a third-party logistics (3PL) provider that can be contracted to handle warehousing operations like storage, shipping and receiving on a company's behalf. 
Contract warehousing, sometimes referred to as dedicated warehousing, is generally used when a company either doesn't have a storage facility available to properly manage its cargo flow or wants to outsource order fulfillment. In addition to storage, contract warehouses specialize in distribution and inventory management to offer a variety of value-added services including packing, shipping, receiving and transport.
In the case of dedicated warehousing, an entire warehouse and all of its resources are devoted to a single client. Multi-client, or shared warehousing, can also exist on a contract basis and include value-added services, however, that's typically not what's being referred to by the term contract warehousing.
Looking for a solution to store and ship your products seamlessly? Let R+L Global Logistics be your fulfillment and distribution partner.

What's the Difference Between Private, Public and Contract Warehousing?
There are three primary warehousing options that companies consider when in need of storage space. Arguments can be made for and against each, but typically the choice will come down to a few factors. Factors include how long the space will be needed, the capital a company is willing to invest, and what services the client requires.
Private Warehousing
Private warehouses are typically owned and operated by one company. The primary purpose of this type of warehouse is to store goods in a central location and provide easy access to storage and distribution.
While more convenient and better for long-term storage, private warehouses require a large investment of capital. This applies to both the purchase or construction of the warehouse and in the equipment and staff needed to maintain it. Additionally, a high degree of daily involvement is needed to ensure they're running properly.
Private warehouses are best suited for addressing long-term storage needs and for companies that want complete control of how their merchandise is managed and distributed. While there are no rental fees, it can take decades to see a return on investment as a result of the initial costs associated with private warehousing.
Public Warehousing
Public warehouses are run by third-party entities and rented out almost exclusively as storage space.
The price can vary depending on the amount of storage space required (typically measured in square feet), the amount of time the storage is needed, and the number of inbound and outbound transactions that a company makes.
While rental agreements can usually be made for any amount of time, public warehousing is best suited for companies looking for either short-term or seasonal storage. It's worth noting that public warehouses don't typically offer any additional services, and oftentimes store goods for multiple clients under the same roof. 
Contract Warehousing
Unlike private or public warehouses, contract warehouses offer a variety of value-added services and can be tailor-made to fit a client's specific supply chain goals.
Some of the specialized services offered include packing, kitting, transport and inventory management, in addition to dedicated storage of all merchandise. By outsourcing these services to a 3PL provider, companies can focus their time and money on other areas of their business. 
The typical length of a contract runs between two and five years, and the pay structure can usually be negotiated at either a fixed rate, costs-plus, or a combination of the two. Contract warehousing will almost always be more expensive than renting, but depending on your needs, it can be well worth it to gain access to additional services and avoid high initial investment costs.
Is a Contract Warehouse a Good Solution for Me?
Contract warehousing may sound like a great option in theory, but is it the best choice for you? Before making your decision, you should first determine what your needs are.
Contract warehousing is best served for companies that are looking for medium- and long-term storage options and have an interest in outsourcing logistics and order fulfillment to a 3PL provider. 
If you're busy trying to grow or maintain other areas of your business, you may not have the necessary time or resources to dedicate to the storage and distribution of your merchandise. 
Contract warehousing solves that problem by providing a dedicated staff that can offer a variety of logistics solutions. You still retain control over the warehousing process, but it removes the need for daily oversight. In turn, this gives you the ability to focus your attention and resources on the areas that need them most.
Contract warehousing can also make sense if your company lacks the time or money necessary to invest in a private warehouse, or is simply looking to boost its distribution efficiency and reliability.
Looking for a solution to store and ship your products seamlessly? Let R+L Global Logistics be your fulfillment and distribution partner.

Benefits of Using a Contract Warehouse
Contract warehousing offers many benefits that other options just aren't able to. Whether you're looking to save money, ensure your company has dedicated warehouse space, or increase the reliability of your services, it's hard to argue with the advantages of using a contract warehouse.
Save Money
One of, if not the biggest advantages of contract warehousing is the amount of money that you'll save, particularly in bypassing the need for large investments of capital.
The start-up costs of a new private warehouse, particularly if it has to be built from the ground up, can be cost-prohibitive for the average company. And even if you're able to go that route, it can take decades to see the return on your investment.
Building or expanding a warehouse means expensive construction costs, not to mention time (and we all know time is money). Even if you plan on buying a fully constructed warehouse, you can still expect to spend a decent chunk of change on not only the initial purchase, but on additional renovations and equipment installation. And both options still require you to staff the warehouse.
With contract warehousing, all of those issues are taken care of. It gives companies instant access to a fully staffed warehouse capable of storing a variety of goods and equipped to offer services optimized to meet their supply chain goals.
No Surprises
A contract warehouse, as the name implies, requires that a contract be signed by all parties involved in order to do business. Another way to view the contract is as a safety net for your warehousing needs.
Entering into a contract agreement is in the best interest of both you and the 3PL provider running the warehouse. The contract length is agreed upon before signing, meaning that whether it's signed for one year or for 10, both parties are locked into the agreement until the term comes to an end. 
For the warehouse company, that means they're guaranteed a client and source of revenue for the duration of the contract. For you, it means peace of mind, knowing you don't have to worry about unexpected expenses or a sudden need to find new warehouse space. You know exactly what you're getting when you sign the contract, and for many companies, that assurance can mean a lot.
Reliable Service
In the business of logistics and order fulfillment, reliability is key. 
In order to keep customer satisfaction high, goods need to be delivered as ordered and in a timely manner. And that all starts with the warehouse.
The good news is that contract warehouses employ a dedicated staff tasked with providing accurate and efficient work, and most importantly, with the ability to handle increased demand. 
Your flow of goods is not always going to remain consistent and the warehouse providers know that. As such, contract warehouses are specifically engineered to adjust and meet your current level of need, ensuring that your goods are delivered in a reliable and timely manner and that your customers remain happy.
Contract Warehouse Services from a Strategic Partner
Finding the right partner to address your storage concerns and help you meet your supply chain goals is crucial to growing your business, optimizing cost-to-serve, and keeping your customers happy. 
We've already outlined how a contract warehouse can provide your company safe, reliable and cost-effective storage while providing a number of other value-added services. Now, the key is finding one that can be shaped to meet your needs so that you can make the best choice for your company.
Fulfillment and Distribution, powered by R+L Global Logistics, can help you do exactly that. Fill out a fulfillment warehouse quote today and see how we can help you find the right warehouse option for you.
Optimizing your approach to shipping and distribution is a goal for countless businesses. One of the ways that this can be accomplished is through something called pool distribution. There's some important questions to ask surrounding pool distribution which include: what is it, how does it work, when should it be used, and more. Before you can answer more detailed questions about pool distribution, you first need to understand what it is. 
Pool distribution is a shipping/distribution method in which multiple shipments are combined into one larger shipment. This strategy has a number of similarities to Less Than Truckload (LTL) shipping. However, there's some key differences that set pool distribution apart and establish itself as its own solution. 
There are several unique characteristics that make pool distribution a viable option for many businesses. Before deciding whether or not pool distribution is right for your business, it's important to have a firm understanding of its purpose, benefits, usage, and more. 
Our comprehensive guide below covers everything there is to know about pool distribution. 
Looking for a solution to store and ship your products seamlessly? Let R+L Global Logistics be your fulfillment and distribution partner.

What Are the Basic Characteristics of the Pool Distribution Model?
The definition provided above for pool distribution covers the basic concept of it. However, there's actually a few features and characteristics that combine to create the full model of pool distribution. Each characteristic is unique and plays an important role in the overall process
Combining Multiple Shipments
The main concept at the core of pool distribution is combining multiple, separate shipments into one larger one.  This is where pool distribution actually gets its name from; "pooling" multiple shipments together. In some cases, the combined shipments are enough to fill up most of a trailer or the entire space of a trailer. When this occurs, the shipment can be classified as Full Truckload shipping (FTL).  
Regional Terminal
Another characteristic that is present in pool distribution is having access to a regional terminal. Terminals can sometimes be referred to as distribution centers. The pool distribution model only works if a strategically located terminal/distribution center is available. 
Once the "pool shipment" has arrived at the terminal, it is unloaded. At this point, the products are then stored at the terminal for delivery at a later time or transferred directly onto another truck for their final delivery. When the goods are taken from an inbound truck and placed directly onto an outbound truck, this is referred to as cross docking. 
Local Delivery
As mentioned above, local delivery trucks are required to complete the final leg of the shipping journey. These trucks take the individual shipments that were delivered to the terminal and transport them to their final destination. 
In some cases, the trucks that transport goods to the distribution center and complete the final delivery are owned by the same carrier. In other situations, different carriers are involved for each step in the journey. 
What Benefits Does Pool Distribution Offer?
Before determining whether the pool distribution model will work for your business, it's useful to understand what benefits you can gain.
When using the pool distribution model, you can experience the following benefits:
Quicker deliveries

Reduced supply chain costs

Greater shipment visibility

Safer freight

Positive environmental impact
All of these benefits together create a more efficient and overall improved supply chain. Below, we explore each benefit individually to explain how it occurs and the level of impact you can expect.
Faster Deliveries
While speed isn't always the number one factor when it comes to shipping, it's certainly a top priority. With the pool distribution model, quicker shipping times are possible along the initial journey. 
After products have been consolidated and picked up by a truck, they then take a direct path to the regional terminal/distribution center. This step differs from the LTL approach in that a truck moving LTL shipments will be making multiple stops along its route, as opposed to just making one stop. 
While this doesn't affect the final leg of the shipment, the improvement can still be drastic over time and with a high frequency of shipments.
Lower Supply Chain Costs
Perhaps the only thing better than saving time is saving money. With pool distribution, you can experience both! 
Using the pool distribution model can reduce supply chain costs in the following ways:
Fewer stops, lower costs

: Every second that your products are with a carrier, they're responsible for them which costs you money. Since drivers can deliver products more quickly with this method, they spend less time with your products which means a cost savings for you.

Higher volume discount:

Shipping in bulk unlocks similar discounts to buying in bulk. In this case, going from sending numerous small LTL shipments to shipping fewer, but larger shipments will reduce your per pound shipping rate.

Decreased storage time:

Pool distribution relies heavily on products spending the most time possible in transit to their destination. In addition to less time on the truck while at another stop, it also means less storage time at a

3pl warehouse

. In the end, this means reduced warehouse costs for you. 
Curious to know how much you could be saving by using pool distribution? Our fulfillment and logistics experts can help you find out. We'll thoroughly examine and analyze your current supply chain and distribution program to identify cost savings opportunities.
Looking for a solution to store and ship your products seamlessly? Let R+L Global Logistics be your fulfillment and distribution partner.

Improved Shipment Tracking
While shipment tracking isn't the top priority for all businesses, it's high on the list for quite a few. Whether you're up against a tight timeline or tracking a high value, high risk shipment knowing where your shipment is at is important. 
With a pooled shipment that makes fewer stops than an LTL delivery, your shipment will be easier to track. Unfortunately, when it comes to LTL shipments there's no guarantee of how many stops will be made or where they'll be made. This makes tracking your shipment a bit misleading. 
On the other hand, in a pooled distribution shipment, tracking is likely to be consistent and within the parameters of the route. This makes estimating your delivery date much easier and also provides you with a greater peace of mind. 
Fewer "Touches" Along the Journey
Perhaps one of the biggest downsides of LTL shipping is how often freight in the trailer needs to be rearranged throughout the process of loading and unloading products. Each time a specific pallet of goods need to be rearranged, it's considered a "touch." In general, the fewer times freight is touched throughout the shipment, the better. 
High-touch freight has some negative consequences including:
Increased likelihood for freight to be damaged

If freight is damaged and is significant, a claim needs to be filed which be a lengthy process

If there are a large number of claims over a significant period of time, carriers may charge you more to ship with them or may refuse to ship your goods in the future. 
With pool distribution, products stay on the truck for a longer period of time and are moved less frequently. This reduces the chances for accidents to occur during the shipping journey.
Reduced Carbon Footprint
Similar to improved shipment tracking, this benefit may not be on the top of everyone's list. However, with the major push to reduce emissions within the trucking industry, many businesses have already begun to adapt.
Generally, the pool distribution model uses fewer trucks than traditional LTL shipments. This is what leads to a reduced carbon footprint.
Many companies now have this goal as part of their company mission. Some states and local governments even offer tax incentives to businesses that commit to and meet certain emission and carbon footprint standards.
No matter which benefits of pool distribution most closely relate to your goals, they're hard to ignore. If you primarily ship products via LTL, pool distribution should at least be a consideration to explore to potentially realize some of these supply chain improvements. 
Challenges To Implement the Pool Distribution Model
While the benefits of pool distribution are certainly worthwhile, they don't come without some challenges along the way. Implementing this model of distribution requires you to overcome some minor and potentially major roadblocks. With that being said, they're far from impossible to deal with, and in most cases, the effort is well worth the effort.
Challenge #1- Numerous Changes May Be Required
The factors that need to be present in order for pool distribution to work may require quite a few changes to your existing supply chain framework. 
Changes that you may need to make include:
Placing higher volume orders 

Adjusting your ordering and shipping schedule to accommodate fewer individual shipments

Finding a new 3PL partner with the necessary resources 

Adjust

shipment compatibility
These changes are far from impossible to implement. You simply need to be willing to do some additional work upfront to reap the long-term benefits. 
Challenge #2- More Planning and Preparation
Speaking of upfront work, this is one of the biggest changes that you'll likely need to make. This is one of the toughest challenges in moving from an LTL approach to a pool distribution model. With an LTL model, many shippers simply contact a carrier when they have one to a few pallets of product that need to be moved. This is a spur of the moment type strategy.
Utilizing the pool distribution method, you need to prepare shipments in advance and do so strategically. Taking a measured approach and planning these details ahead of time ensures that you use the most cost effective strategy.
If this task is too difficult for you to tackle on your own, there's no need to worry. Our fulfillment & logistics experts can help you. We work with companies across a wide range of industries and help them identify supply chain improvements that can be made within their operations.  
Looking for a solution to store and ship your products seamlessly? Let R+L Global Logistics be your fulfillment and distribution partner.

Challenge #3- Access to Necessary Resources
For the pool distribution model to work properly you'll need to have the required resources to get the job done. In reality, your logistics partner will be responsible for having these resources; your job is to find the right partner. 
If you're already working with a 3PL or carrier, you can discuss the possibility of moving to a pool distribution model. However, if they can't meet your needs you'll need to look elsewhere.
When reaching out to potential logistics partners about utilizing a pool distribution approach, there are some common questions you should be asking. These include:
Where are your distribution centers located?

Do you already have dedicated lanes where my shipments are going?

Are any other customers that you work with utilizing pool distribution?

Do you offer last mile delivery?

What other logistics services do you offer?
An experienced and knowledgeable 3PL should be able to confidently answer all of these questions. 
Examples of Pool Distribution in Action
To better understand how pool distribution works, we've provided a few helpful examples below:
Example #1
A shipper has 10 pallets of products that are being shipped to 3 different retail locations within a 100 mile radius. 
All 10 pallets are placed onto one truck and taken to a regional terminal. The individual pallets are loaded onto separate trucks with each one making a direct route to the 3 retail locations.
Example #2
2 shippers each have 3 pallets of goods going to 2 separate locations within the same city. 
All 6 pallets are loaded onto the same truck and delivered to a regional terminal. From there, the pallets are placed onto individual trucks, combined with other shipments going to the 2 locations.
Example #3
Numerous shipments from different origin points are bound for the same end destination. 
The buyer of the goods requests that the shipments be sent to a regional terminal near the destination. The separate shipments are then grouped together on one truck and delivered to the destination.
Each of the examples above illustrate situations where fewer trucks are being used and the transportation process is more efficient/
Is Pool Distribution the Same as Pool Consolidation?
If you've come across the term "pool consolidation" in your journey to learn about pool distribution, you might be asking yourself this question. Thankfully, the difference between the two isn't too difficult to grasp. 
Pool distribution refers to the distribution(shipping) portion of the overall journey, while pool consolidation specifically relates to the consolidation(separation & loading) of the product shipment. Pool consolidation is normally just one part of the overall pool distribution model.
In some cases, pool consolidation may be utilized without pool distribution. When this occurs, multiple shipments from one or more shippers share the same space of a truckload, but all go to the same final shipping destination. This is different compared to pool distribution where the shared truckload is separated and distributed to multiple final delivery trucks. 
Pool Distribution vs. LTL
As we noted at the beginning of this article, pool distribution shares a lot of similarities with Less Than Truckload (LTL) shipping. With that being said, there are some key differences between the two that need to be recognized. It's important to understand what makes these options unique so that you can make the best decision when choosing between the two.
When Should Pool Distribution Be Used (And Not Used)?
While the benefits of the pool distribution model are outlined above, it's important to note that it's not always a viable option. Before deciding to implement this model, there are certain aspects of your distribution and supply chain framework that you need to examine. Once you've identified and analyzed the necessary details, then you can make an informed decision.
Use It
If the factors below apply to your shipping situation, you should consider utilizing pool distribution
Frequent LTL Shipments to the Same Geographic Region
If this situation applies to your past shipments, you have a prime opportunity to optimize your supply chain with pool distribution. Consolidating multiple LTL shipments into one larger LTL shipment or even an FTL shipment will almost surely reduce your overall costs. This is in addition to shipments often arriving quicker as well.
Flexible Scheduling
Switching to a pool distribution method often requires shippers to adjust their shipping schedules. Having the flexibility to adjust your shipping schedule to accommodate for pool distribution increases the likelihood that you'll experience success. 
A Resourceful & Reliable 3PL/Shipping Partner
Since pool distribution relies heavily on the skills and resources of the companies providing the transportation services, this is a must. Not every 3PL or shipping company will be able to successfully manage your needs using a pool distribution model. Luckily, if you don't have confidence in your current provider's ability to meet your pool distribution needs, you can reach out to other companies to find a better partner. 
Looking for a solution to store and ship your products seamlessly? Let R+L Global Logistics be your fulfillment and distribution partner.

Don't Use It
Unlike the above scenarios, if the situations below apply to you, pool distribution might not be your best choice.
Low Order Volume Within a Specific Geographic Region
Pool distribution can only work when there is enough product being delivered to one area to pool multiple shipments together. When there aren't enough shipments, it simply doesn't make sense. Trying to delay orders simply to consolidate them with others will lead to more harm than good including frustrated customers or losing suppliers to other companies.
Incompatible Products
Not all products are ideal for pool distribution. Whether products are incompatible with one another or risk spoiling due to being transferred from one truck to the shipping terminal to another truck, this is an important detail that shouldn't be overlooked. For example, certain fresh food products require specific shipping environments to avoid spoiling. If a shipper has multiple products that require different shipping environments, pooling won't be possible.
Perishable goods almost always follow the FIFO method of distribution. To learn more, check out our article FIFO Procedures for Warehousing.
Unwillingness To Change
Along with flexible scheduling mentioned above, pool distribution will most likely require you to make some big changes. Whether it's increasing your ordering volumes, doing additional upfront planning, or switching 3PL's, change will likely be necessary. If you're not committed to making the necessary changes to transition to pool distribution, you'll be destined to fail from the start. 
Get Help With Your Distribution & Supply Chain Needs
No matter what your distribution and supply chain needs are, we're prepared to help you. Our team at R+L Global Logistics has the knowledge and experience to use the best solutions for your business. In addition to our knowledge and experience, we have the right resources to get the job done. Our established carrier and distribution network ensure that your shipments will always be in the right place at the right time. 
When you're ready to begin utilizing the pool distribution model or need any other assistance with your supply chain needs, get in touch with our team. Already have a project planned and need a quote? No problem. Request a quote now and our team will provide you with a transparent and hassle-free quote. 
Whether you're shipping your freight domestically or internationally, it's becoming increasingly more rare that a single method of transportation can be used. Some facilities just can't accept direct ship or rail delivery, for instance. That's where transloading services come into focus and the kind of offering that can really help you put the finishing touches on getting your products into the strategic locations required in the modern world. But you may be wondering exactly what transloading services are and why you truly need them?
Transloading services have emerged in the face of more global trade and the explosion of the e-commerce field. These services refer to transferring merchandise from one method of transport to another along the designated route to make sure the products get to their final destination. 
What Are Transloading Services?
With the vast distances products travel around the world and the many different modes of transportation available, transloading services are here to stay. But if transloading is becoming a vital part of shipping — especially internationally — it's important to know exactly what it is.
Transloading services have to do with cargo containers full of commodities being initially loaded onto one mode of transport via ship as ocean freight where it then makes it to a port of entry. Once there, the container is processed in a facility by being transferred into the back of a truck or a container more suited for domestic shipment.
While that might be the main way transloading occurs, it can happen with domestic shipments as well where freight might begin on a train or truck and then finish on the opposite form of transport. The entire goal is to utilize the resources available in regard to reducing transit time and also make sure the freight has a direct path to its destination.
Transloading services can also refer to a train to train exchange, or a truck to truck exchange. So as you can see, there's not one specific way to complete a transload. Even in situations where a giant cargo ship might be too large to enter a preferred port, transloading can occur by offloading freight from the larger ship onto a smaller watercraft that can then access the port. 
In the world of fulfillment and distribution, this has become a vital way to keep freight moving in an efficient and desirable manner. It also can have real-world cost savings for both the third-party logistics companies providing the service and the businesses utilizing it. 
What Is a Transload Rate?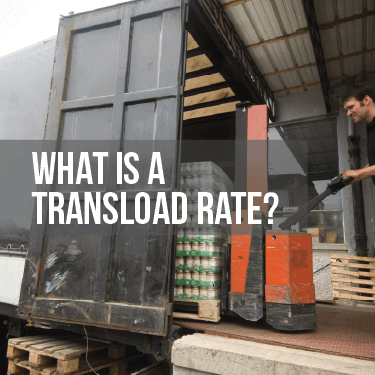 The transloading rate is pretty self-explanatory — it's the quoted price you'll pay to have your freight handled. However, while you might be having the freight moved around from container to container or with different modes of freight hauling, you will be dealing with a single third-party logistics (3PL) provider to accommodate all of your needs surrounding the transloading services.
As the customer, you should be able to lay out exactly what you require and get a quick, accurate cost quoted. Also as the customer, it's understandable if you're looking for the most cost-effective way to complete moving your goods through the supply chain and the third-party logistics company should also have that in mind on your behalf.
But for the best value in a transload rate, make sure you're getting everything you will require so you're not hit with surprise fees or realize all too late that an add-on service midway through transloading could increase the cost. In order to protect yourself, make sure to have these pieces of information available when shopping for rate quotes:
Type of commodity

Quantity of commodity

Perishability of commodity

Distance of total trip

Ease of servicing the route

Additional freight insurance

How quickly you need the items shipped

If you require warehouse storage and an estimate of how long

If you need specialized transport (i.e. climate-controlled hauling)
Even after giving all of this information to the 3PL provider, you should be aware of factors outside of your control that will impact the rate you receive:
So to do your part in making sure you get the most accurate rate that includes everything you need, be as comprehensive as possible in communicating with the 3PL company to ensure you have everything required to get your transloading at a reasonable price.   
What Is a Transloading Facility?
A transloading facility is a place that allows for the actual transloading to occur. In the most common cases, these are strategically placed along or at the end of railroad tracks to allow offloading of your freight from the railcar onto a truck to finish the rest of your load's journey.
There are many places in the U.S. where railroad tracks can't go. An example would be if you're shipping food — there are virtually no grocery stores with railroad access, so climate-controlled rail cars can take perishable food as far as it can before it's then transloaded onto a truck for the last leg of transport. A well-thought-out transloading facility is set up with two things in mind:
To quickly and efficiently complete the transloading process.

Usually positioned at a place like an interstate highway or railroad junction so once the load is transferred, the truck can easily get on the road.
Another big advantage a dedicated transloading facility will offer is heavy machinery needed to transfer cargo containers or unload/load from one method of transportation to another. This can be things like heavy-duty forklifts, conveyor belts, cranes and the skilled labor needed to operate this equipment and expertly transfer your cargo to reduce the risk of it being damaged. The specialized equipment found here also helps with speeding up the shifting process, providing another benefit.
In the same vein, a transloading facility leaves space for manual offloading and loading to take place as well. This makes such a setup a true one-stop shop for all of your transloading service needs in one place.    
What is Bulk Transloading?
Transloading takes on multiple forms and one of those is called bulk transloading. This refers more to those commodities that are dry — but can also be in liquid form — and possibly loose or not contained in the same way as a standard cargo.
Examples of things that would be bulk transloaded are:
These are the kind of items that can't be as easily transloaded as boxed or palletized items, so they arguably need a transloading facility more than more standardized freight.
What Is The Difference Between Transloading and Transshipment?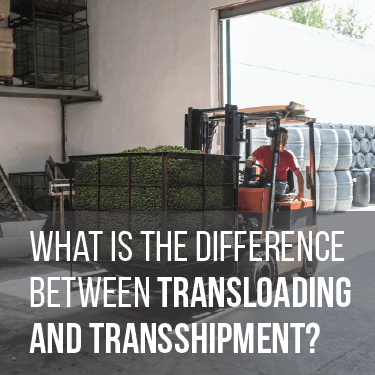 In understanding why transloading services are needed, it's good to make the distinction between that and transshipment since it's possible for the two to be confused. To reiterate, transloading is when a container cargo arrives
Transshipment can happen in concert with or completely independent from transloading. Transshipment is more about shipping containers to one location with the intention of eventually shipping it to its primary destination. It's more of an intermediary way to go about the shipping process but in certain instances (like offloading the freight from a truck to sit in a terminal, which will end up on a train down the road), transshipment and transloading can overlap.
However, some instances of transshipment occur in line with transloading. There is something known as break of gauge that transhippers try to avoid since it can incur delays, additional costs and is just overall inconvenient. This happens when the track that a train is on can't continue because the gauge — basically the spacing between the tracks — changes. So freight must be offloaded from one train to another, necessitating the need for transloading during a transshipment.
Transloading vs. Intermodal
This section will be small and direct because there are actually many shared similarities between transloading and intermodal services.
The one defining difference is that transloading involves cargo being unloaded from its original container into either another container, warehouse or directly onto a truck or train. Meanwhile, intermodal transport stays in the same shipping container during the length of the entire journey.
Intermodal transportation just means that two or more methods of transport are used to deliver cargo. So while all transloading can be considered intermodal transportation by its most general definition, not all intermodal transportation is indicative of it also being transloaded.     
How Can Transloading Help You?
If your freight is moving over long distances at normal intervals, you should see a benefit from
Saving time
Depending on the commodity being shipped, time can truly be of the essence. In fact, with trucking and railroad, the more time or distance the vehicle has to travel, the more expensive it will be.
Overall, rail is cheaper and less energy-intensive over longer distances. But it has two major weaknesses that prevent it from being the sole source of transportation for cargo domestically. The big one is time: even in cases where using trucking could be more expensive, it's generally going to be faster, especially if you have a full truckload to yourself. So even if you're not purchasing expedited freight shipping, it's still quicker than using rail.
The other area, which has already been described, is that nearly any business, retailer or distribution center can welcome an 18-wheeler and effortlessly unload or load it with speed. Train tracks have limitations as they don't go everywhere.
So transloading saves you time on both of these accounts because it combines multiple shipping methods to most directly access each of the shipping methods' strengths and minimizing the downsides of each.
Reduce lead times
Right now, there are shipping container shortages, freight and trucking capacity shortages, if you need to move freight, there's a very real chance you will currently be facing heavy competition for currently limited capacity spots.
So one way to somewhat, if not wholly, combat this inescapable issue is by expanding your transportation possibilities by employing transloading services.
To further reduce the lead times, it's crucial to partner with a 3PL that has many different contacts with air, ground, ship or rail. What this will do for you is increase your likelihood of securing the freight hauling you need because even if your 3PL is having an issue with one of its suppliers, it has others it can turn to.
Again, this is not a guarantee that lead times will automatically be able to be reduced by using transloading services; just that it will increase the chances of you being able to secure what you require in a timely fashion.
Adding Flexibility
While the example used previously was between truck and rail, transloading even adds further flexibility because it can also incorporate aircraft and ocean vessels. And it doesn't even have to be between two different methods of transport to be considered transloading.
It can go from one ship to another. Or be flown in from out of the country to an airport, where it goes onto a truck to finish the journey. The main point is this opens up a wealth of options for your transloading service needs and doesn't pigeonhole you into a single type of transport.
Providing storage
Transloading services can actually coincide with fulfillment or distribution services. Distribution centers deploy cross docking as a practice. This is where a truck drives to the distribution center on an inbound side of the building, the truck is unloaded and then the merchandise is processed in one of two ways:
It is taken directly across the distribution center and loaded onto an outbound truck, to move toward the end of its overall route.

The merchandise can be stored for any amount of time needed and then loaded onto an outbound truck at the time you need it. This is still considered transloading and cross docking, even if it's delayed.
To expound upon the second point, your 3PL can offer much more than just transloading services. It can store your products in its warehouse or distribution center, fulfill orders under your direction, provide reverse logistics (returns) and much more. So you can look at your 3PL provider as a true Swiss Army knife for many of your needs, and not solely as the company that transloads for you.  
Get Your Transloading Services From R+L Global Logistics
Once you're up to speed on why you require transloading services, let R+L Global Logistics handle the details of what can be a complex undertaking with a lot of moving parts. We have the skills and resources to make something that can be difficult much easier for your business goals.
As a third-party logistics company, R+L Global Logistics has access to 18-wheelers, spots on cargo trains and even ships and planes should the need arise. Transloading with us will be a great proposition for you since we won't be limited to just one or two modes of transport.
R+L Global Logistics has ample warehousing all over the United States so that you can store your goods at any point during the transloading process. Also, if the preferred destination for your products is in a warehouse until they're ready to be sold, we've got you covered there as well.
Other services that R+L Global Logistics can provide are:
So when you're prepared to use transloading services, connect with our team at R+L Global Logistics to find out exactly how we can help you reach your goals. Call us at (866) 989-3082 for a free quote and to learn more about the R+L Global Logistics difference.
If you're looking to start an eCommerce business, you might be feeling a bit overwhelmed at the variety of different options available for selling online. Even if you've narrowed down your options to Amazon FBA or dropshipping, it can still be tough to choose between those two. Both options have their fair share of benefits and drawbacks, but they are ultimately two of the best options for online sellers. 
Both Amazon FBA and dropshipping are great options for entrepreneurs looking to break into eCommerce. When choosing between them, you'll need to consider profit margins, shipping times, investments, risk, and many other factors. Ultimately, you will need to decide which factors are the most important to you. 
In our guide below, we explore the differences and similarities between the two and also provide you with a third option that many entrepreneurs are now utilizing. 
What's the Difference Between Amazon FBA and Dropshipping?
Before we move on, it's important for you to understand what Amazon FBA and dropshipping is, and how those two options differ from one another. Though they may sound similar in theory, there are many factors that set them apart.
Dropshipping is the process of selling goods on behalf of another store, supplier, or manufacturer. If you were to start dropshipping, you would take up the task of marketing and selling the supplier's goods. When you make a sale, the manufacturer gets notified and ships the order for you. You never have to see the products, and you don't need to purchase any stock up-front.
FBA stands for "Fulfillment By Amazon," and it is the process by which your stock is stored in an Amazon warehouse and fulfilled by Amazon employees. Because of the nature of the program, you DO need to purchase stock up-front AND pay for storage, but your products would then be eligible for Prime Shipping and listings on Amazon (in addition to your website). Like with dropshipping, however, you wouldn't need to worry about fulfilling orders yourself. 
The biggest differences between the two options relate to product inventory. With Amazon FBA, you need to provide the warehouses with products, which means several things. You would need to invest more money in the beginning to get your business off the ground, and you will also need to keep track of that inventory so you know when to order more. You wouldn't need to do any of that with dropshipping. Aside from that, the two options function similarly. 
The Pros and Cons of Dropshipping and Amazon FBA
Both Amazon FBA and dropshipping are great options for starting an eCommerce store, but one might be better for your particular business. Depending on your products, starting funds, amount of free time, and more, you might end up benefiting from one option more than the other. 
To get a good idea of which option is better for you, you'll need to weigh the pros and cons of both dropshipping and Amazon FBA and compare them to each other. 
Pros of Dropshipping
Dropshipping is often touted as the number one way to make money online by eCommerce gurus (and with good reason), but you shouldn't just take their word for it. Examining the perks that make it so great is the first step towards making an educated decision regarding your business. 
The biggest benefits of choosing dropshipping over Amazon FBA are:
Low risk:

Because you don't need to purchase any stock, create a new product, or deal with fulfillment, you have very little to lose.
Customizable:

There are countless different suppliers that you could source your products from, and each one is going to have slightly different contracts. You can pick and choose who you want to work with, what you want to sell, and many other factors of your business. You can even exercise complete creative control over your website by making a

Shopify

store or

WordPress

site. Ultimately, you are in control. 
Customer contacts:

If you start a dropshipping business, and then later decide you want to change suppliers (or even start manufacturing your own products), you will be able to keep all of your customer contacts. If you have an email list, that belongs to you, not your supplier. 
Low effort:

Managing a dropshipping business doesn't require much effort and time, especially when you compare it to traditional business models. Since the responsibilities of shipping the product, stocking the shelves, and managing distribution fall on the supplier, you can use your time for other things. This makes dropshipping a great option for a side business.
With all that said, running a dropshipping store isn't all smooth sailing. There are some drawbacks and difficulties associated with it, otherwise, everyone would be doing it! 
Looking for a solution to store and ship your products seamlessly? Let R+L Global Logistics be your fulfillment and distribution partner.

Cons of Dropshipping
As with any business model, you need to be aware of the negative aspects before you commit to it. Here are the less-than-glamorous aspects of dropshipping that you should know about:
Slow shipping:

Because your products would be shipping straight from the supplier (which may or may not be overseas) to the customer, shipping can often take a long time. If you're concerned about this, you can try to find a domestic supplier, or communicate with your supplier about shipping options. 
High competition:

One of the biggest issues with dropshipping is how the market has been flooded with products that all look the same, but are branded differently. You can't know for sure how many other entrepreneurs your supplier is supplying, but you can bet you aren't the only one. This is especially true if you found your supplier on

Alibaba

, which is one of the most popular eCommerce supplier networks on the web.
Small customer base:

With dropshipping, you are limited by your marketing abilities. You will never be able to reach as many customers as you would be able to with Amazon, and it may take a lot of effort to get your website in the spotlight. 
Customer service issues:

Since your products would be shipping straight from the manufacturer to the customer, you can't do any quality control. When something goes wrong or a customer isn't satisfied, it can be an ordeal to get the situation settled. You may end up with more unhappy customers, and there's very little you can do about it.
Lower profits:

Since you aren't buying inventory, you can't save money by buying stock in bulk, and you can't sell products for much more than they're worth. Depending on your products, you may only make a few cents to a few dollars in profit with every sale. 
Hard to build a brand:

Many consumers are loyal to big brands, and it may be difficult to build a trustworthy name for yourself. If you're a small company without any brand recognition, it's going to be much harder to drive traffic to your sales page. 
If those drawbacks sound manageable to you, dropshipping might be the way to go! However, you should still consider all your options before settling on a decision. 
Pros of Amazon FBA
Amazon is a glamorous option for online entrepreneurs, and you've no doubt been tempted by all their flashy perks. Here's a run-down of some of the best benefits of choosing Amazon FBA over dropshipping:
Listing on Amazon:

If you're part of the FBA program, you can list your products for sale on Amazon

and

on your own personal website. This widens your potential audience significantly. 
Free shipping:

If your inventory is being fulfilled by Amazon, that would make your products eligible for free shipping for customers who buy through Amazon's Prime program. This would come at no extra cost to you, but it's a nice perk for your customers. 
Huge customer base:

Because of the option of listing your products on Amazon, you have the potential to reach an enormous customer base. In fact,

Amazon makes up 49% of the US eCommerce market

, so being able to list your products on their site is hugely advantageous. 
High customer satisfaction:

Amazon is a leader in putting customers first. Their easy returns process, fast shipping, and commitment to quality mean that you'll end up with more happy customers.
Larger profits:

Since Amazon makes it easier to complete a sale and get your product noticed, you can spend less on marketing. You can also purchase goods in bulk to get bulk discounts, which adds up to higher profits and more money in your pocket. 
Brand recognition and association:

If your product is listed on and fulfilled by Amazon, consumers are a lot more likely to trust you. By working with Amazon, you can take advantage of that positive brand association. 
Easy returns:

If a customer isn't happy with their purchase, Amazon makes it very easy to return packages with a variety of different options. That means your customers will be satisfied, and you'll be spared the headache of dealing with unhappy customers and complicated reverse logistics. 
There's no doubt about it: Amazon is a tempting choice. However, like with dropshipping, it's not without its flaws. 
Cons of Amazon FBA
It's hard to look past all the great benefits of Amazon, but it has its fair share of negatives as well. Amazon FBA isn't a perfect solution for eCommerce fulfillment. Here are some of the biggest drawbacks of the FBA program:
High risk:

Working with Amazon means you need to invest in products to sell ahead of time, and you'll also need to pay a fixed rate and storage fees for using their services. That means if your product doesn't sell for some reason, you could end up losing a lot of money. 
Not customizable:

When you become part of the FBA program, you forfeit a lot of control over your business. Amazon could change the terms, remove your store, or even alter your listings—all without consulting you first. You have to agree to their terms exactly as they are, and you can't negotiate anything. 
Really high competition:

A

lot

of people are selling goods on Amazon, and many of them are probably getting their goods from the same suppliers. If you want to stand a chance, you need your product to be unique, otherwise, your store will look exactly like everyone else's.  
No direct contact with customers:

If you set up your store with Amazon, and then later decide to stop using their program, then you lose all contact with any of the customers who purchased your goods on Amazon. Those are Amazon's customers, not yours, and you don't maintain any contact with them once you leave the program. 
Inventory:

Since you need to have products to store in Amazon's warehouses, you will need to worry about inventory. That includes

keeping track of inventory

, ordering restocks, and dealing with unsold products that could build up in the warehouse and cost you money. 
Storage fees:

Unlike with dropshipping, you will have to pay to store your goods in an Amazon warehouse. As mentioned above, this can get very expensive if you have large amounts of unsold inventory piling up over time. 
Now that you know all the major pros and cons of Amazon FBA and dropshipping, you can make a more educated decision about which one is right for you. 
Is Amazon FBA or Dropshipping Better for Beginners?
If you're just getting started in the world of eCommerce and you don't have a lot of experience with running a business, then you'll probably want to pick dropshipping over Amazon FBA. 
Dropshipping is the most beginner-friendly option. 
That's the quick answer, but here's an explanation for why that's the case. It all boils down to the risks involved. If you've never sold anything online before, and you have little to no experience with running a business, you should minimize your risk as much as possible. With dropshipping, you have much less to lose. 
Without having to worry about inventory, you can more safely experiment with which products sell well, how to maximize profits, and what the best marketing techniques are. Once you get a business established and you're more confident in your abilities, you can move on to a different business model if you want—or not! Dropshipping is a great option for businesses of any size, and you can continue to make a profit as your business scales up.
An Alternative to Amazon FBA and Dropshipping
If you read through the pros and cons of both Amazon FBA and dropshipping, and you aren't sure you want to use either option, you don't have to worry. There's another option that can offer you the customization of dropshipping with the quality and speed of Amazon: a Third Party Logistics Company (3PL).
It might take you some extra effort to track down a good 3PL, but that can truly offer you the best of both worlds. Like with Amazon, you would need to acquire your own stock to store in the 3PL warehouses, but unlike Amazon, you can have full customization over packaging, kitting and assembly, packaging inserts, shipping options, and much more. When you work with Amazon, they call the shots, but a 3PL works for you. 
If you aren't happy with the options provided by dropshipping and Amazon FBA, then you should consider working with a 3PL instead. 
Fulfillment and Distribution Services through R+L Global Logistics
If you're tired of comparing the disadvantages of Amazon FBA vs dropshipping, then it may be time to consider the better option.
R+L Global Logistics is a leader in the 3PL industry, with a focus on quality, customer service, and accessibility. We pride ourselves on our ability to serve any sized company in any industry, and we never compromise on the service we provide. If you want a widespread distribution partner with locations all across the US, but also the values and service of a decades-old family-owned business, then look no further!
At R+L Global Logistics, we offer a wide variety of value-added services to take your distribution to the next level. These services include:
Cross-docking

Transloading

Reverse Logistics Services

Retail Fulfillment

Expiring Product Fulfillment
In addition to that, we can provide multilingual staff members to communicate with you on your terms and to facilitate the most effective communication possible. When you work with us, you become part of the R+L family. 
If you want more information on the services we provide, you can reach out to us at (866) 989-3082. Our friendly customer service representatives are always happy to help. 
If you're interested in working with us, you can request a free fulfillment quote right on our website. 
Looking for a solution to store and ship your products seamlessly? Let R+L Global Logistics be your fulfillment and distribution partner.

With a huge market share in the area, getting your orders fulfilled by Amazon can be an attractive component for any online business. But what do you do if it's not a good fit for you and you need fulfillment alternatives to Amazon FBA? It can seem counterintuitive to be outside the retail giant's sphere of influence and you might not even know where to begin looking. 
Unless you're going to handle order fulfillment yourself, finding an alternative to Amazon FBA will involve partnering with a different Third Party Logistics (3PL) provider. Many 3PL's offer similar services to Amazon with some added benefits that make switching worthwhile. 
Our guide below provides you with the critical information you need to find the best fulfillment alternative to Amazon FBA. 
Using 3PL As A Fulfillment Alternative
Using a third-party logistics company can really give your ecommerce business a boost. You get a myriad of benefits from partnering with a 3PL that can allow you to perfectly scale your operations to the size that works for you and also get a handful of helpful services that can free you up to focus on bigger picture aspects.
First off, a 3PL is similar to Amazon FBA in that your goods are stored at their warehouse, they fulfill orders for you and then ship them out to your customers. 
In many cases though, a company focused just on providing their 3PL services doesn't have a website to drive ecommerce sales. You will be out in front selling the items while the 3PL will be doing all the back-end stuff.
But besides just saying that a 3PL will help you out, let's delve a bit deeper into all the ways your ecommerce business can reap the rewards. First of all, you don't have to worry about the cost of renting or buying your own warehouse space. The 3PL in question already has the buildings in strategic spots so that your products are in the right place before they even have to be shipped. Many 3PL's, including R+L Global Logistics, can offer cross docking services. This is a highly efficient service that reduces product storage time and speeds up fulfillment delivery.  
Taking it a step further, a 3PL is going to be an expert being able to accurately and quickly fill order in a variety of different ways. Whether it's pick and pack fulfillment, which would be most of your orders, or something different like retail fulfillment or even cross dock transloading, a 3PL has done it all.
Some 3PLs also have the required tools to actually ship your orders as freight if needed, no matter if it is by truck, rail, air or even ocean. This would be for orders in large bulk or if you were able to sell pallets full of items to a retailer, but it's still valuable to have the option.
But even if the 3PL just leans on its pre-existing relationship with a number of different parcel services, that could also help your bottom line. Because a 3PL would work in a higher volume, it can access greater discounts on bulk shipping. The 3PL would hypothetically then be able to pass on those savings to you, which will be a big help to your bottom line.
Looking for a solution to store and ship your products seamlessly? Let R+L Global Logistics be your fulfillment and distribution partner.

Fulfillment By Merchant
One of the options available that would be the most radical departure from Amazon is to handle your own order fulfillment. This can be a workable option for any small business that can't deal with its own inventory management and afford to set up a business model that accommodates appropriately for shipping costs.
If you are doing your own fulfillment, you're probably not on Amazon or, if you are, you're not taking advantage of their fulfillment network whatsoever. In fact, to fulfill orders yourself, you'd need a space of your own — whether that be your home, a small office or even renting your own warehouse. Renting your own warehouse, though, seems the least likely of these options since it would prove to be cost-prohibitive to rent out an entire building if you don't need that much, then the other costs like staff, utilities and the like.
So let's look at if you're working out of a small space that you either own or rent. You assuredly have a website where customers can place orders and you can receive them. Then you'd package the sale yourself and be responsible for shipping it out, most likely through FedEx, the USPS, UPS or something similar.
If your operation is very small or you enjoy a more hands-on approach, doing fulfillment yourself can be the way to go. You'll never have more control of your own operations than if you choose this option.
The drawbacks should also be considered as well. The cost of shipping as a smaller outfit without access to better volume discounts that other companies or even third-party logistics providers enjoy can limit an ecommerce business's ability to offer the best prices or realize a profit margin as big as their competitors.
Also, if you're handling all the fulfillment yourself, it might be harder to properly scale your growing needs if you want to expand. You'll either be responsible for a bigger space to work out of and store products. Conversely, having a third-party company take care of fulfillment usually means they have the space and resources to allow your business to organically grow without hitting a ceiling.  
If you're also considering other outlets on which to sell your products, check out our article Alternatives to Selling on Amazon. 
Offering Prime Shipping On Amazon
Do you think this one is cheating? It's not but let us explain. You can still sell your goods on Amazon without having them do fulfillment and you can do it through their Prime program, which is called Seller Fulfilled Prime (SFP). You get the Prime badge on your listings but you handle the fulfillment yourself. 
There is a catch, if you want to call it that: by being in the Seller Fulfilled Prime program, you are making a commitment to provide two-day shipping to customers without adding any additional shipping charges. Since you will still have costs associated with shipping, the challenge becomes setting the price low enough to entice customers but not low enough that profits are hard to come by or even impossible to realize.
Also, it might go without saying, but since this is a seller fulfillment option, you won't be receiving any outside help on fulfilling your Amazon orders. While you get the benefit of listing on Amazon and having the Prime badge, it's all on you. This is a win for Amazon as well, as they are able to expand the amount of products that they can offer Prime shipping to their members.
There are a few cons though. As mentioned above, you cover the costs of shipping but it doesn't stop there. You are also on the hook for storing your goods and also responsible for handling returns. This requires additional planning and resources to be able to bear these costs. 
Also, while it might not be considered a negative, Amazon requires up to a 90-day trial period to make sure you can fulfill your Prime obligations before it allows you to permanently have the Prime sticker on your listings. Depending on how you look at it, this can also be a positive so that you don't get in over your head and become unable to properly fulfill the orders. 
Order Fulfillment With R+L Global Logistics
If you're looking for a fulfillment alternative to Amazon FBA, you can stop your search and give R+L Global Logistics a call today to let us handle all your order fulfillment needs. As a financially secure company with many resources at our fingertips, great workers who do the job right the first time and the knowledge to run the whole supply chain on your behalf, you won't find anyone more suited for the task.
R+L Global Logistics won't just keep your items on the shelf but can actually pick and pack them once you submit your customers' orders to us. We can send out individual orders, or if you have pallets worth to send at once, we can deliver those ourselves. Our freight shipping is one of the best deals in third-party logistics since we're competitively priced and boast a 99.5 percent on-time rate. R+L Global Logistics offers additional warehouse and distribution services that can help your business such as reverse logistics (returns), kitting and even retail fulfillment should you require any of that.
So when you're searching for a fulfillment alternative to Amazon FBA, pick up the phone and call R+L Global Logistics for a free quote to find out how we can help your business succeed.
Looking for a solution to store and ship your products seamlessly? Let R+L Global Logistics be your fulfillment and distribution partner.

You've got a great product or stable of goods to sell, a business model that should stand on its own and the desire to work hard and make money. However, you're running an online enterprise and still need to figure out an aspect that could make or break your ability to be successful: how to handle your ecommerce shipping. This can be a giant pain point for customers and businesses alike, so getting it absolutely right should be a fundamental focus. 
Ecommerce shipping is a process that involves many details and critical decisions. The process includes whether to offer free shipping to customers, how to package products, warehouse considerations, and more. Many ecommerce companies rely on a Third Party Logistics (3PL) provider to manage shipping and order fulfillment. 
Below, we outline the steps you need to take in order to setup and manage shipping for your ecommerce business. 
Different Types of Ecommerce Shipping
Before you decide what you can afford or what would work best for your ecommerce business model, it's imperative to hone in exactly what your opinions are for shipping. The biggest differences between the following kinds are how much of it you do directly or outsource to another company. Each has their own positives and negatives and you'll be tasked with weighing each carefully to determine which will make your enterprise flourish. Not to put undue pressure on you, but it is very important you figure out which will work best for you because it can definitely have a major impact on your business, for better or worse.
Do It Yourself
Good old D.I.Y. is definitely an option. This is just as it sounds, but even this comes in some different varieties. For instance, if your sales are small enough, you might be working out of your house, garage or perhaps a modest office/facility. Things might be low key and manageable enough to fill the orders yourself or with a team of people. In this setup, it could be easy enough to simply fill the orders as they come in over the internet.
This is good if you can handle doing so without compromising your abilities in other areas. You get to keep whatever profits roll in and it is a self-contained supply chain without middle men or any additional step that could complicate the procedure. 
However, the drawback could come from your operation being small enough that filling each order yourself is more costly since you don't have the advantage of lower bulk shipping that a larger enterprise or even one — as an example — who is connected to a third-party logistics company that has access to lower shipping prices because of the connections they possess. Also, just packaging and shipping a small amount of orders can be a time-consuming process that doesn't allow you to focus on issues within your business that could really use attention.
Another potential drawback is if you need to expand your operations. If you plan on doing everything yourself, that means you're on the hook for buying or leasing upgraded facilities to accommodate the increased workload and space needed, plus possibly adding additional workers of your own. 
Order Fulfillment With A 3PL
Warehouse fulfillment is currently at an all-time high and shows no signs of slowing down. So if you have an enterprise that you want to thrive in the current economic climate, using a 3PL to fill and ship your orders can be a huge advantage to your bottom line.
Outsourcing order fulfillment to a third-party logistics (3PL) company is an option when you don't have the storage of a warehouse or the necessary setup to ship on the scale needed. But it can also be beneficial to any ecommerce business that would just prefer the fulfillment of their orders, which includes shipping, done on their behalf.
The benefits to using a 3PL for order fulfillment are numerous and used by many. The first one is that you don't have to acquire space or make a huge upfront investment to get your shipping set up. You can access a 3PL's already established infrastructure for your burgeoning business without having to invest a large amount of resources.
Instead, you pay for what warehousing space you need and pay per order/item fulfilled to customers on your behalf. Space in a warehouse is reasonably inexpensive and even the fulfillment cost itself might surprise you since 3PLs deal in such large overall volume that they can access discounted pricing on shipping and packaging materials that a smaller outfit couldn't.
Another benefit is having less on your plate. Maybe you don't want to or cannot give the time or energy to meticulously overseeing or filling each order as it comes in. So you can lean on another company that has the wherewithal, experience and resources to easily undergo this task for you. You can be more concerned with the bigger pictures of procuring your products or balancing the books than the minute-to-minute aspect of shipping.    
Looking for a solution to store and ship your products seamlessly? Let R+L Global Logistics be your fulfillment and distribution partner.

Order Fulfillment Via On Demand Warehousing
On demand warehousing is directly linked to order fulfillment. Except in this scenario, it's not necessary to exclusively use a 3PL and the structure of how you pay for both the warehousing and actual order fulfillment for your ecommerce shipping can slightly differ. It starts with you as the ecommerce business finding a company that has available warehousing space to store your goods.
Usually, that company will offer additional services which can include order fulfillment and shipping. Where this diverges somewhat from 3PL order fulfillment is it might not be a 3PL company that you're paired with and you will be charged only for the space and services that are used. This can have big advantages for your business, especially if your operations are affected seasonally or just have any kind of variation in the services you actually require from day to day or month to month. 
Instead of having to sign a contract for a certain amount of warehouse space, order fulfillments or shipping each month or year, you are literally charged for what the company provides for you. If one month, you need to store 15 pallets and fill 1,000 orders but the next month, it's 10 pallets and 750 orders, that's no problem. You will not be charged the same overall rate and it can result in savings for you.
The only real downside to this setup is because things are much more fluid in such a scenario, if you had a huge spike in the amount of goods you need stored or shipped out and there's not the longer-term commitment locking in a certain amount of space, the company may be unable to accommodate you.  
What Kind Of Shipping Should You Offer To Your Customers?
Besides figuring out how you're going to have your items shipped to customers, it's also a good time to figure out exactly how you plan on enticing said consumers to want to buy your products. Again, the answer could be shipping. The variety of shipping options offered could be the difference between a sale or goods sitting on a shelf.
Offering Free Shipping
This topic could be its own article, because if you're able to offer free shipping to your customers, it can be the final push they need to make that purchase. So, the short answer in this regard is you should definitely endeavor to make shipping free for your customers. But let's further outline the situations where it would be advantageous or not to offer this.
First of all, the biggest thing you have to determine is if you can remain profitable while making free shipping available. If you cannot turn an overall profit, then it's just not sustainable or worth it to you. Because while shipping might be "free" for your shoppers, your shipping costs aren't going anywhere.
Free shipping can offer a big boost, though, especially as an incentive to either keep pace with competitors or even possibly best those who cannot offer free shipping. Free shipping is proven to cause customers to buy more or even buy when they are on the fence or even otherwise wouldn't.
Even if you've made the decision to move forward with this approach, you still need to know how to offer free shipping. There isn't a one size fits all approach when it comes to offering free shipping, so it's helpful to understand the various options available. An example would be if you planned on offering 40 percent off everything you're selling, but you can't swing offering free shipping if you do that. This is an example where maybe 25 or 30 percent off your products plus free shipping will be more enticing to a customer sitting on the fence. There's no magic formula and trying out different things might be the only way to figure it out.
You can even set up free shipping in several different ways:
On any item(s)

With a

minimum order

As a limited-time promotion

As part of a membership program

On certain items

To certain locations near the warehouse they're shipping from
In some respects, your ecommerce business can use a combination of these methods of free shipping to further entice consumers. There's no tried-and-true method to adding customers, so you might have to use some trial and error and also realize that only some of these types of free shipping will work for your specific business.
It's proven that customers will tend to act more impulsively or irrationally when free shipping is involved and you're in the business of making money, so do what you can to prod them to make that purchase.
If you want to explore this topic even further, check out our article Should I Offer Free Shipping to my Customers.
Offer Paid Shipping
If for some reason you cannot offer your customers free shipping without losing money or not realizing a big enough profit, then you'll have to charge them. But even this has to be done with some thought and care. While free shipping is the ultimate value proposition for a consumer, you can still work on demonstrating that having to charge for shipping can be good for the customer as well.
An example is the time shipping takes. This is a complete hypothetical but if "value shipping" costs $2 and takes 7-10 days to arrive, maybe you can offer 2-3 or 3-5 day shipping for a few additional dollars. This makes the customer feel better having to pay for shipping and you might break even on shipping costs if you're positioned in a warehouse near your customers and are able to access the discounted shipping costs that many 3PL companies have negotiated.
You can also offer flat rate shipping when making customers pay, so as long as the items fit in a certain size package, it's the same price. Also, whether or not the shipping is free or paid, customer expectations include tracking numbers to receive real time updates of their item's journey from the distribution center to their homes.
This all depends on what the profit margin is on your product. For instance, televisions are big items that have higher shipping costs but since there might be hundreds of dollars between the wholesale and retail prices, there is wiggle room for an ecommerce business to absorb some of the shipping costs and offer free or inexpensive shipping to get it directly to a customer. While this is a specialized instance, if you're selling bigger items that you'd need a large SUV or truck to transport, most customers would be grateful to receive them directly to their homes.
Making customers pay for shipping can benefit you in other less expected ways. For instance, when free shipping and subsequent returns are available, it can lead to more impulsive buys which lead to a double expense for you when those items are inevitably returned. Also it can reduce waste that affects the environment if your customers are more discerning in their initial purchases and don't make as many returns.
Looking for a solution to store and ship your products seamlessly? Let R+L Global Logistics be your fulfillment and distribution partner.

Ecommerce Shipping With A 3PL
While it's been outlined in detail that you don't necessarily have to use a 3PL when handling shipping for your ecommerce business, there are a variety of benefits from doing so. Mostly because you're likely talking about a company that has been able to maximize efficiencies across the board and is able to offer you outstanding service at reasonable prices.
Speaking of those efficiencies, think about it this way: with a 3PL, your goods are not just thrown haphazardly into a dim, dirty warehouse and then inelegantly packaged and shipped with no thought given to how it arrives to your customers. Quite the opposite, actually. A great 3PL company has clean, well laid-out space for its customers' products. Many use a Warehouse Management System (WMS) in order to quickly locate your stored goods and employ highly-trained workers who know exactly what to do.
From there, your items are picked and packaged in the right sized box or envelope with appropriate internal materials to protect and secure your valuable items. Then the 3PL can access its partnership with some of the top shipping companies in the U.S. to get good rates on shipping, which it can then pass on to you.
If you have bigger orders that require multiple pallets being shipped at once, 3PLs also have 18-wheelers or can contract with the owners of freight haulers to move your shipment without any problems. So no matter how big or small the orders are, there's very little for you to have to worry about.
Actually, it doesn't have to end there either. Many 3PL companies also offer reverse logistics, which means they can process returns on your behalf and also send out new items to customers as well. They can also dispose of or recycle the returned orders depending on your preference.
Ecommerce Shipping With R+L Global Logistics
Now that you've figured out how to handle shipping for your ecommerce business, let R+L Global Logistics help your operations take it to the next level. As experts at supplying great service at each step in the supply chain, you can't go wrong in partnering with us.
First of all, we have the warehousing space your enterprise needs and it's located strategically across the United States so you can store your goods in a place that works best for you. Our warehouses are climate-controlled and kept spotless so you don't have to worry about their condition between storage and the products reaching your customers.
Next, R+L Global Logistics is very adept at fulfilling orders on your behalf since they have a lot of experience in that arena. Handling high-volume, fast-paced shipping is also firmly in the company's repertoire and accuracy on all fronts is what R+L Global Logistics is known for. We'll fill your business's orders and get them to the right place in pristine condition.
But that's not all R+L Global Logistics can take care of for you. We also offer the following warehousing and distribution services:
So when you're ready to have the shipping for your ecommerce business taken care of by the best in the field, give R+L Global Logistics a call at 866-989-3082 to get a quick, hassle-free quote and see how we can help take your business to the next level.
Looking for a solution to store and ship your products seamlessly? Let R+L Global Logistics be your fulfillment and distribution partner.

If you've ever thought about the possibility of starting your own business, then you've probably heard about the dropshipping process before. The online business model that requires very little upfront investment is causing quite a stir in the entrepreneurial space. The concept might seem overwhelming if you don't know much about it, but it's not as complicated as it seems! With a little explanation, you can understand the dropshipping process and get on your way to starting your own online business!
The dropshipping process is as follows:
Consumer purchases a product from an online store
The online store orders the same product from their designated supplier
The supplier fulfills the order and ships it directly to the consumer
The online store provides the consumer with shipping details and provides any support after the product has been received
While the process above may seem simple and concise, there's much more going on behind the scenes that makes dropshipping happen. Our comprehensive guide below provides you with a complete understanding of the dropshipping process. 
Defining Dropshipping Terms
Before you move on, it's important for you to familiarize yourself with these terms. 
Supply chain: This describes the entire process of turning raw materials into products and shipping them to customers. If a company is part of the supply chain, it is either a manufacturer, supplier, distributor, wholesaler, retailer, or something else that deals with the creation or movement of goods. 
Supplier: A supplier is a person or entity that provides goods, raw materials, or services to other entities in the supply chain. There are often many levels of suppliers. For example, a company may get raw iron from their supplier in the mines. Then, they manufacture that into steel and supply it to another company to turn into car parts. That manufacturer then supplies those car parts to a car manufacturer. That car manufacturer then supplies the finished cars to a dealership, where they are finally sold to the end-user. Each one of those companies is a supplier to the companies that use what they produce. 
Entrepreneur: An entrepreneur is a person who takes on the responsibility of starting their own business alone. They often take risks in order to succeed and owe their success to no one but themselves. 
Merchant: A merchant resells products manufactured by other companies directly to consumers, rather than for resale. Merchants are also known as dealers, traders, or retailers. 
Vendor: A vendor is a person or company that is offering something they made for sale, typically keeping their product lineup rather limited or specific to one area, such as an ice cream vendor, an office supplies vendor, or a clothing vendor. Vendors are typically suppliers for larger retail stores like Target or Walmart that sell a large variety of items but do not manufacture their own goods. 
Wholesaler: Wholesale suppliers sell large quantities of goods at relatively low prices to individuals and companies who are not the end-users of the products. Wholesalers ship to restaurants, retailers, and other business users for the purposes of resale or commercial use. 
Producer: A producer is a person or company that manufactures, grows, or harvests goods to sell.
Distributor: A distributor is an agent or company that supplies other companies with goods for resale. They can be wholesalers, but they aren't always. In many cases, manufacturers will give one distributor the sole rights to distribute that particular product, so anyone who wishes to purchase that product must go through the same distributor. 
eCommerce: eCommerce means "electronic commerce," and it describes the process of selling goods online. To learn more about this, check out our article What is Ecommerce Fulfillment?
It might surprise you to know that "drop shipper" isn't a real title. Dropshipping is a process that involves many people, like manufacturers, distributors, and merchants, so there is no single person who earns the title of "drop shipper." 
Looking for a solution to store and ship your products seamlessly? Let R+L Global Logistics be your fulfillment and distribution partner.

What is Dropshipping?
Dropshipping is often described as the easiest way to make money online, but what exactly is it, and what do you need to know before you get started? 
To put it simply, dropshipping is the process of selling goods online by shipping customers their orders directly from the supplier. Merchants find products that already exist, and develop a marketing strategy to sell those products on their platform. In this way, the merchant works as a middle-man to find more customers for the supplier—while taking a cut of the profits along the way. The supplier benefits from having more customers, and the merchant benefits from being able to earn money on their online store with little to no overhead costs. 
The dropshipping process doesn't require the merchant to ever come into contact with the product they are selling, since the products go directly from the supplier to the customer. Unlike with traditional retailers, there's no need to worry about keeping stock of inventory, shipping costs, or anything like that. All the merchant has to do is make the sale. This simplifies the process of selling online, and makes it much more alluring to entrepreneurs and people looking to earn supplemental income outside of their regular job.
With all that said, however, you should be realistic with your expectations. Many savvy internet gurus tout dropshipping as some sort of get-rich-quick scheme, but it's actually not that simple. It's true that dropshipping is the easiest way to sell online, but that doesn't mean it is easy. Like any business, running a dropshipping business requires a lot of careful planning and hard work.
The Dropshipping Process Behind the Scenes
Although dropshipping accounts for almost 33% of all online stores, it is usually impossible to tell which online stores utilize dropshipping and which ones keep their own inventory. Behind the scenes, however, the process looks much different from a typical supply chain. 
When a customer orders a product from a dropshipping company, integrated software on the company's website automatically confirms the purchase and immediately sends a confirmation email to that customer. At the same time, it sends out another email to alert the merchant of the sale. The merchant receives the money for the sale automatically as well.
The merchant must then review the order, and forward the order information to the supplier. Along with that, the merchant must also pay the supplier for the price of the item and the cost to ship it. Then, the supplier will pack the item in a box that is labeled with the merchant's branding, so the customer will see the brand they recognize on the box. The supplier then ships the box directly from their warehouse to the customer. Depending on the agreement between the merchant and the supplier, the supplier may send an invoice to the merchant after fulfilling the order instead of requiring payment upfront. 
Finally, the customer receives their purchase with no indication of it ever coming from anywhere but the merchant they purchased it from. Throughout the product's entire journey, the merchant never had to come into contact with it even once. 
In a traditional supply chain model, goods would be shipped to the merchant first, and then shipped to customers from the merchant's storage. By cutting out that step in the middle, overall shipping costs can be reduced since each box only needs to be shipped once. 
Is Dropshipping Profitable?
By now, you're probably wondering if this business model is profitable, especially as more and more entrepreneurs turn to dropshipping to earn an income. Well, according to Grand Review Research, the dropshipping industry is expected to grow exponentially with the growth of eCommerce, as more consumers are showing a preference for shopping online. The dropshipping market is projected to be worth USD $557.9 billion in 2025!
So how exactly do you profit from a dropshipping business model? Let's look at an example.
Say you are advertising a supplier's reusable water bottles on your website. The water bottles cost around $5 each to manufacture. The supplier charges merchants and retailers $15 for each water bottle, giving them a profit of $10 per bottle. You, the merchant, advertise the water bottles on your site as $25 plus shipping and handling, which also gives you a profit of $10. This works because the supplier never sells directly to consumers. They only sell to retailers and merchants like you, so your prices don't seem too high. 
With that said, the profits you make will depend on the agreement between you and your supplier, the competition in your particular product category, and your personal marketing efforts. 
Benefits of Dropshipping
Dropshipping has many benefits that make it an exciting opportunity. 
The biggest benefit is definitely the low startup costs. When starting a dropshipping business, you won't have to worry about buying products to stock, storage costs, or setting up a physical location to conduct business. Since your store exists solely online, and the products get shipped straight from your supplier to your customer, you wouldn't need to worry about most of the costs often associated with starting a business. 
Another important benefit to this kind of business model is the flexibility it allows. Dropshipping doesn't require a lot of continuous attention, and it doesn't take much time to keep the business operating. Because of this, people are able to work full-time jobs and manage an entire dropshipping business on the side. Alternatively, someone could run a dropshipping business instead of working a full-time job, and have more time to focus on their hobbies.
In addition to that, dropshipping businesses are easy to scale up. Since you only have to worry about one aspect of your business, you would be able to scale up much faster and more efficiently than if you had to manage all the different aspects of the business yourself. With dropshipping, you wouldn't even need to hire employees to help you manage the company—unless you wanted to.
Finally, dropshipping is easy to maintain. If you have everything automated with integrated software, your business could continue to operate long-term with little intervention on your part. You could have all orders automatically forward to your supplier, pay invoices automatically, and even have a bot to respond to customer queries. This would make it easier for you to take impromptu vacations or take a day off here and there with little consequence to your business. 
In short, dropshipping allows you to run a real, legitimate business at a fraction of the cost and effort of other online business models. 
Looking for a solution to store and ship your products seamlessly? Let R+L Global Logistics be your fulfillment and distribution partner.

How to Start Dropshipping
By now, you might be wondering just how you can get started with a dropshipping business of your own. Thankfully, the process isn't as difficult or intimidating as you're expecting it to be, as long as you break the process down into actionable steps. It isn't really different from starting an eCommerce business of any type. 
Finding the Right Products for Dropshipping
The first thing you're going to need to do to start your own dropshipping business is to decide what kind of products you want to sell. You'll need to make sure the products you stock your store with are high-quality; after all, the products themselves will represent you and your business. However, a lot goes into finding a good product to sell—especially if you don't have any ideas to start with. 
Now, when you're first getting started, it can be really tempting to jump on whatever the newest trend is, but you should be really cautious about trends. Take fidget spinners, for example. Back in 2017, these spinning toys saw explosive popularity, and entrepreneurs all jumped on the chance to stock up on them for their stores. However, the craze disappeared as quickly as it began, and many business owners were left with overflowing stock and no demand. Although you wouldn't have to worry about stocking up with dropshipping, you still wouldn't want to waste time and effort on a product that ends up flopping. If a product seems too good to be true, it probably is. 
To find a good product to sell, a good place to start is to think about what interests you. If you have any hobbies, think about the kind of equipment you use. If you play football, for example, you would need a ball, a mouth guard, a helmet, and many other pieces of equipment. If you're a painter, you know you need to buy paint, brushes, canvases, palettes, and much more. Any one of those items could work, but it's important to remember that this stage in the process is just for coming up with ideas. 
Once you have some ideas, you need to narrow it down until you have one or two types of products. You can, of course, expand your store to include many different items, but you should start small if you've never done this before. Here are some tips for eliminating products from your list of ideas. 
 If the item is too expensive, you may have a hard time converting. Almost no one is going to buy something worth more than $1000 online without doing extensive research, and you want people to simply put items in their cart. 

On the other hand, you should make sure it isn't too cheap, or you'll have a hard time turning a profit. 

Make sure the product is "high involvement." This means that the brand of the product is important, and that consumers typically research the product specs prior to buying. Low involvement products like toothbrushes and socks are purchased routinely, and customers are often going to choose whichever item comes with the smallest price tag. 

Check the competition for that product. You don't want to try to sell a product that is already oversaturating the market, otherwise, consumers would have no reason to buy from you instead of anyone else.
If you decide to grow your product line later on, you should try to find products that relate to the ones you are already selling. If you're selling soaps and bath scrubs, you could add things like lotions or balms to your website. If you sell keyboards and mouse pads, you could expand your product line by finding other office supplies to dropship. If you only sell a random collection of products that don't fit into a similar theme, you may lose some credibility with potential customers. 
Making a Deal with a Dropshipping Supplier
Once you have decided what you want to sell, you have to find a supplier. One of the most popular options for sourcing dropshipping products is through the massive online marketplace, AliExpress. AliExpress is tremendously popular for several reasons. For one thing, many of their sellers already understand that buyers are looking to resell their goods, especially with dropshipping. Because of that, it is much easier to find suppliers who already offer dropshipping options. 
With that said, AliExpress is the most popular option, which means that each supplier is already likely supplying its products to many different sellers. To find products that are more unique, you may have to look elsewhere. Some alternatives to AliExpress for dropshipping include DHGate, DX, and Lightinthebox. 
If you decide to search for a supplier outside of a large marketplace like those listed above, you should be extremely cautious about scams. Once you find a supplier, make sure you look for information on them, including how many shipments or sales they have made, what their reviews are, and whether or not they avoid answering any of your questions. 
Remember that not all suppliers are going to offer dropshipping services. You need to reach out to each potential supplier to make sure they clearly understand your expectations. 
Creating a Website for Dropshipping
Creating a website might seem like a daunting task, but there is a variety of software available that can make the process easy. For example, sites like Wix and Weebly allow you to create a website online for free, and they're easy to use! You can simply drag and drop assets onto the screen to build the front-end of your website easily. However, there are drawbacks to these types of website builders: they tend to be slow, it can be difficult to create consistent branding across the site, and not all the functionality is going to be actually free. 
Another option for creating a website is through the open-source software offered by WordPress. It's more difficult to use than a website builder, but it will allow you more freedom and creativity on your website. It also integrates well with many plug-ins that make eCommerce easier, such as WooCommerce. 
However you decide to create your website, there are a few things you're going to need to keep in mind to ensure the best customer experience. Here are the most important elements to an eCommerce store:
User Experience.

Everything on your site must be easy to see, click, and find. If your site is too busy or difficult to navigate, you might lose customers even if the product you're selling is good.
Payment Gateway.

You need to have a secure

payment gateway

for accepting and receiving payment from purchases. You should also make sure you have more than one way of accepting payment, like through debit or credit cards, PayPal, and Apple Pay. 
Rating and Reviews.

Your customers should have some way to rate the products on your website and give reviews for future customers to read. Product ratings are an important part of the online shopping experience, so you need to make sure you keep that in mind. 
Filters.

Your website should have many different ways to sort the listing on the site,

especially

if you have many different items that you sell. Customers should be able to filter a list by price, ratings, newest items, and any other product-specific filters. If you sell blankets or jackets, for example, you may want to have filters to sort by the warmest items.
Mobile-Friendly Interface.

It's no secret that mobile shopping is becoming more and more commonplace. You can count on roughly half of your website's traffic coming from mobile devices, so it's incredibly important to optimize your site for mobile devices. 
If the learning curve of creating your own website from scratch is too steep, you could always hire someone to create your website for you. Depending on many different factors, a designer or developer may charge anywhere from $200 to $6000 to create a site for you, in addition to an ongoing charge if you want them to manage your site over time. 
While we provide a brief overview of launching your dropshipping business, check out our full article on How to Start a Dropshipping Business for even more information.
How to Grow a Dropshipping Business
Once you have a dropshipping business set up, you'll quickly get tired of seeing only a few sales every now and again. If you really want your business to take off (and continue growing), you need to start advertising! 
Advertising is at the heart of all successful dropshipping companies, but if you've never done something like this before, it can be overwhelming. There are many different ways to advertise an online store, and you may end up using all of them, a few of them, or only one! If you find something that works for you, your product, and your business model, then you should put all your energy into that instead of diluting your attention over multiple different advertising channels. 
Here are some advertising ideas to get you started:
Social media

Email marketing 

Paid ads

Search Engine Optimization (SEO) marketing

Youtube promotion

Traditional advertising (print, television ads, etc)

Content marketing

"Buzz" or word-of-mouth marketing

Partnerships with other businesses
Disadvantages to Dropshipping
Although dropshipping has many benefits, it isn't all fun and games. Like any business model, it has its fair share of drawbacks. Here are some of the challenges you might face with a dropshipping business:
You get almost no control over the products, inventory, shipping, delivery times, customization, or price.

Each product a customer buys is shipped in a different box, which can be inconvenient for customers and increase the cost of shipping. 

Dropshipping is notorious for having quality control issues, and since you wouldn't see any of the products before they are shipped to customers, you can't check for quality issues yourself.

If your supplier goes out of stock, there is nothing you can do about it. 

Customer service queries are more difficult to address since you don't have visibility to most of the process. 

Many dropshipping suppliers are overseas, which means delivery times can be long. Customers could end up waiting over a month for something they ordered to be delivered. 

Returns are more difficult to manage.

You have no options to personalize boxes with

packaging inserts

.

Dropshipping has a lot of competition, so it can be difficult to set yourself apart. 

And worst of all, you see much lower profit margins than you would if you were keeping inventory yourself. 
There are plenty of good reasons to pursue dropshipping as a business model, but you should always remember that there are trade-offs. The low barrier to entry and ease of managing a dropshipping store comes at the expense of more control and higher profits. You have to decide what it is you want from your business and make your choices based on your personal goals. No single model is definitively better than another, and you may try a few different strategies before finding what really works for you. 
Looking for a solution to store and ship your products seamlessly? Let R+L Global Logistics be your fulfillment and distribution partner.

An Alternative to Dropshipping
Dropshipping is a great way to get started with a business if you don't have a lot of money. However, you may decide to change your business model later on, or you may decide that dropshipping was never in line with your goals for your company. Either way, if you're looking for alternatives, one idea may stick out to you more than others. 
Most of the disadvantages associated with dropshipping involves the lack of control that business owners get over their supplier's inventory. So, many of those problems could be eliminated by managing your own inventory. Buying products at wholesale prices and fulfilling them yourself is more expensive upfront, but you would be able to make much more profit on each sale. You can cut shipping costs, offer more personalized shopping experiences for your customers, and ensure the quality of each item that gets shipped out. You may even be able to continue getting your products from the same supplier, and just save money by making bulk orders instead.
Managing your own inventory can be a challenge. You'll need to have a solid understanding of demand planning, inventory management, and order fulfillment strategies in order to ensure your success. There are more upfront costs, and mistakes can have larger consequences for your business. More reward comes with more risk, after all. But… What if there was a way to get the best of both options: both the convenience of dropshipping and the profits of managing your own inventory?
If you take control of your own inventory, you will have a new opportunity to help you manage online orders and fulfillment: a Third Party Logistics (3PL) Warehouse. 3PLs offer you the same convenience as dropshipping, since you wouldn't need to worry about storing goods or shipping the products yourself, but with many more perks. Your customers could enjoy more customization and shorter shipping times, while you can reap the rewards of having a personalized contract with a competitive fulfillment company. This will save you money and free up your time to continue expanding your business. 
Utilize Fulfillment and Distribution Services from R+L Global Logistics
R+L Global Logistics is a leader in the warehousing and fulfillment industry. We offer competitive pricing and outstanding customer care, so you can just relax and let the pros take care of everything. We'll treat your business with the care and efficiency that it deserves, so you can rest easy knowing your inventory is in good hands. 
In addition to the standard fulfillment process, we also offer a range of value-added services that you can't get with the dropshipping process. These services are:
When you're ready to break away from the dropshipping process and start managing your own inventory, turn to R+L Global Logistics to be your trusted partner. You can request a quote online, or reach out to us at (866) 989-3082 for more information today!
Looking for a solution to store and ship your products seamlessly? Let R+L Global Logistics be your fulfillment and distribution partner.

Providing devices for hospitals, doctor's offices and everything in between isn't like selling many other types of products. There are quite a few things you must be cognizant of, like how to store the devices and making sure both the devices and how they are handled are in accordance with the Food and Drug Administration's (FDA) regulations. In this regard, choosing correctly between many different medical device logistics companies is of the utmost importance and shouldn't be taken lightly. So you might be in a bit of a bind trying to figure out the correct steps to go about this. 
Choosing a medical device logistics company should involve the following steps:
Verify the companies compliance with FDA regulations
Select a provider with strategic warehouse locations
Ensure the provider can meet the specific requirements for the storage and distribution of your medical devices
Confirm the transportation capacity of the company
Discuss additional services as needed
Develop a reverse logistics plan
In our comprehensive guide below, we take a close look at each step giving you a complete look at exactly what needs to be done to find the right medical device logistics company.
Looking for a solution to store and ship your products seamlessly? Let R+L Global Logistics be your fulfillment and distribution partner.

Step 1: Compliance With The FDA
It's hard to "rank" the steps in choosing a logistics company to handle your medical devices, but it is easy to immediately cross the company off the list if they aren't in compliance with the regulations and best practices set forth by the FDA on handling the items.
First off, let's talk about what constitutes a medical device. One might immediately think of complex technology like MRI or x-ray machines but in truth, a medical device as defined by the FDA can be things as simple as tongue depressors or ubiquitous tools like blood glucose readers. These products are much needed by the healthcare industry and healthcare system, so it is necessary that the various medical devices are readily available.
There is actually a section — 201(h) of the Food, Drug & Cosmetic Act — that covers what the FDA defines as a medical device. To summarize, there are three determining factors that can lead to your item being classified as a medical device:
The U.S. Pharmacopoeia or National Formulary recognizes it.

The device in question is intended to help cure, treat or prevent disease

That which can change the structure of how the body functions without the use of a chemical action or reaction.
Once you've been able to decide if your product is a medical device based on the above criteria, then you can check the FDA Product Classification Database to check if the devices you plan on making available are in a classification that already exists. While looking to make this call, there are a few things you can do:
Search the aforementioned database

Search the internet or database for similar products

Look for similar devices by checking by device listing
One thing to note is that software, whether in the form of a computer program or mobile application can be considered a medical device. This gets its own designation of Software as a Medical Device (SaMD).
Step 2: Find The Right Warehouse Setup
Once you're certain that you have qualifying medical devices that are in regulatory compliance with the FDA, the next step is to find the ideal place to store your products until the time they have to make it to the end user.
This in itself is a step toward finding the right logistics company to partner with for your medical devices, so it should definitely be taken seriously. The first step, if feasible, would be to personally walk any warehouse that you'd consider having your products shipped to in order to be stored. Since medical devices can range wildly in price, you'd want to make sure your items are being taken care of properly. If touring the warehouse is unfeasible for any reason, then do your own research on the matter. With the prevalence of the internet, you'll surely be able to read reviews of logistics companies to get some kind of feel for them.
For medical devices, especially any with electronic components, you want them stored in a clean, climate-controlled warehouse. While the medical devices shouldn't be perishable, they should be kept in the best possible conditions regardless. Besides that, the warehouse (to the best of your knowledge) should be logically set up to maximize efficiencies and to safeguard the integrity of your medical devices. 
Also, many warehouses have a Warehouse Management System (WMS) that keeps track of where and how much of the devices are in the building. These are helpful because the logistics company can share that information with you, mostly the quantity, so you can more accurately have orders filled and know when to send more medical devices to the warehouse.
Another important aspect of a warehouse is its location. Let's say your company operates out of Seattle but you do a large amount of business in New York City. The warehousing you're offered should be in close proximity to where the product needs to end up, or in a good centralized location if it will be distributed to many points across the United States easily.
So in summary, look for a temperature controlled warehousing solution in a location that works for your business.
Looking for a solution to store and ship your products seamlessly? Let R+L Global Logistics be your fulfillment and distribution partner.

Step 3: Make Sure The Logistics Company Is FDA Registered
You could make a strong argument that this should happen before or during the process of looking over the warehouse but we are putting it next because if you don't like where the warehouses are located or how they appear to be run, then you won't care about this step.
But this is extremely important in many regards because the only way a logistics company will be FDA registered is by being in compliance in all the areas required. The condition of the warehouse (as mentioned above) needs to be safe and clean if it is to be registered with the FDA. This means free of any pests such as rodents or insects.
While this next requirement could be more for perishable goods, it is still nice to have even for your medical devices. That is a labeling system which is clear and accurate. Some of the things that are needed on the labels are any expiration dates, requirements for temperature or batch numbers. Specifically for medical devices, the labels provide a clear view of the chain of custody, which is a must for the FDA. Another thing that is similar to labeling requirements is lot control systems.
These systems are put in place so that items throughout a warehouse are stored together properly and in an orderly enough way that they can be easily accessed at a moment's notice. The system is put in place to separate goods from different batches or brands from one another. The lot control system would also be helpful in lowering costs if any recalls were to occur.
Any FDA warehouse must go through regular inspections, maintain prevention plans for accidents or other emergencies, and also handle product recalls. The building in many cases should be properly secured, meaning not just anyone can walk in and out of it, and have access to your medical devices.
Medical Device Classifications
This is specific to exactly what you'll be storing and any warehouse that provides fulfillment services for medical devices. But the FDA registered logistics company you decided on should be able to accommodate both Class I and Class II medical devices. The main reason the FDA ranks medical devices into classes is to denote the level of risk to both the patient and the healthcare professional using them.
You want to make sure that Class I and II can be handled and that the logistics company can also deal with the extra labeling needed by Class II medical devices.  
Step 4: The 3PL's Shipping Capabilities
So you've confirmed that the third-party logistics (3PL) can handle properly storing and handling your medical devices, and is also certified by the FDA. But what is the plan for getting your items from their warehouses to the actual customers? Healthcare logistics can differ slightly from normal logistics but there are some basic things your 3PL company should be able to offer you in the form of logistics solutions.
First is readily available trucks to deliver your products to anywhere in America. Those 18-wheelers should be able to be ready when you need them to transport your medical devices where they need to go. If for some reason an 18-wheeler won't work, a completely covered 3PL can provide vans for smaller or more secure shipments, or even have partnerships that allow for the use of ocean, rail or air freight shipping as an option for times when that will work the best.
Besides the ability to simply put stuff on the road, sea or into the air, you should also be looking at their stated on-time arrival rates or incident reports (if those numbers are available). This can show you that the transportation for your medical devices is not only prevalent, but that if you agree to have the 3PL in question shipping your products, that they'll get there on time and have everything in perfect shape. No matter what happens, you should be comfortable with the transportation services provided.
While it might be hard to obtain some of this information, it's also good to make sure the 3PL you're looking at has financial might and is in good shape in that regard. Depending on your needs, domestic transportation might be enough but it also might be nice if they have a global network in place should you ever require that kind of reach. 
One of the services your business might need is cross docking. A cross docking facility enables your medical devices to quickly be transferred from one truck to another without the need for short term storage in most cases. R+L Global Logistics offers cross docking services through multiple facilities across the U.S. 
Step 5: Do They Do Order Fulfillment?
While the medical device logistic company you're looking at might store it and ship it on your behalf, it's fair to wonder if they will also fulfill orders at your behest. Order fulfillment is the process in which the 3PL has your medical devices stored in their warehouses and then packages or otherwise transports your items to the end user after receiving the order from you. This is a very prominent step in the list of supply chain solutions since it makes a lot of sense that if you're using the warehouse storage of a 3PL — in most cases — you wouldn't want the stuff sent back to you so you could ship it yourself.
Just like the steps before though, it's not going to be good enough for them to throw your stuff into a box or leave it packaged generically if presentation is at all important to you. So you need to figure out if they can fulfill the orders in a way that portrays your business in the best way. If you have a company do your warehousing, order fulfillment and shipping, you must realize your medical device products are out of your hands and you must have a business partner you implicitly trust since the next time you might hear anything about it is from the customer after it's been received.
If you've determined that the medical device logistics company offers the warehouse fulfillment services that meet your needs, then you can move onto the next step.  
Step 6: Look Into Reverse Logistics 
Whether it's medical devices or any kind of products, a manufacturer or wholesaler can't escape the inevitable: having to deal with returns. This can be handled one of two ways — you can have the customer ship the item directly back to you, or you can have the 3PL company who originally fulfilled the order also deal with returns — otherwise known as reverse logistics.
An outstanding medical devices logistic company can actually offer customized solutions for you, so that returns are processed the way you want them to be. There are different options that each have their own benefits:
You can have the 3PL do everything: If you've trusted them with everything up to this point and don't want additional headaches on your plate, this can be a great option. Under your instructions, the 3PL can ship back out a new product to the original customer while then disposing of, recycling or salvaging usable parts or materials. Having the items disposed of or recycled prevents them from being re-routed to you and the salvaging of resources from a non-functioning medical device can be both cost-efficient and environmentally responsible.
You can instruct the 3PL to accept returns and then ship them back to you: If you want to be more hands-on with how returns or dealt with, or want to make sure the recycling/salvaging process is done the exact way you want it, you could have them shipped to the 3PL for initial intake, they can separate it into one of the the three categories, throw away the garbage and send the rest back to you so you can determine what is able to be recovered.  
You can have the 3PL company not engage in reverse logistics: If you want total control, then have any customers who have problems with their medical devices send them directly back to you. If they need a replacement product immediately, you can have the 3PL fulfill that but you deal with the actual broken or non-functioning products yourself.
Choose R+L Global Logistics As Your Medical Device Logistics Company
Now that you've seen what medical device logistics companies do and the steps needed to pick the right one, hopefully it's become evident that you should pick up the phone and call R+L Global Logistics right away. Experts in the business, R+L Global Logistics is the best company to handle the logistics of shipping your medical devices.
R+L Global Logistics truly has everything you need to support your business throughout the entire supply chain. As an FDA-registered provider, we can store your medical devices in a warehouse in a location near where you need it. Also, we know that some medical devices need to be kept free of heat, humidity or moisture, so R+L Global Logistics offers climate-controlled storage as well.
From there, R+L Global Logistics can also engage in order fulfillment on your behalf. This can be in the form of pick and pack fulfillment for smaller medical devices or placed on the back of an 18-wheeler or dry van and shipped right to the customer by us for you.
We also handle other aspects of the supply chain such as reverse logistics (returns), cross docking transload and general 3PL warehouse services. Also included in any service we provide for you is our outstanding knowledge, work ethic and industry-leading customer service.
So when you're ready to explore which medical device logistics companies offer the best overall value, look no further than R+L Global Logistics. Give us a call at 866.989.3082 today for a free quote.
Looking for a solution to store and ship your products seamlessly? Let R+L Global Logistics be your fulfillment and distribution partner.

Maybe you've heard that there are people in the world making money doing something called dropshipping and now you have a very important question of how to set up dropshipping as your main business or even as a lucrative part-time endeavor.
To start a dropshipping business, you'll need to follow 6 simple steps:
Identify the right product to sell
Research the competition
Locate a Dropshipping supplier
Build and Ecommerce presence including a website
Develop and implement a marketing plan
Analyze data and adjust your approach where needed
Each step is vital to the overall process and has important details that can't be overlooked. Our comprehensive guide takes a close look at each step to give you a full picture of how to start a dropshipping business.
Looking for a solution to store and ship your products seamlessly? Let R+L Global Logistics be your fulfillment and distribution partner.

What is Dropshipping?
So you're looking to start your own dropshipping business from scratch and are looking for the simplest, most straightforward path of how to set up dropshipping. So before we barrel into the steps needed to have a successful dropshipping enterprise, let's really define what dropshipping is and how it benefits both you and the customers you'll be providing this service for.
Dropshipping is the practice of buying goods wholesale from a vendor, but having that same vendor fill the order and ship it on your behalf. In this setup, you make the difference between what the items cost and what consumers purchase them for. So a dropshipping operation never actually has the goods in its possession nor is it ever the one responsible for fulfilling and sending the order.
A quick example of this is finding wholesale items to buy on AliExpress (for instance) at low prices. Then you create a listing on another marketplace like eBay or Amazon and sell the items there. You'd then place the order on AliExpress, who'd send the items to the customer. Where the dropshipper profits is the difference in cost between those two items. Depending on how high the disparity is between those two prices, dropshipping can be quite lucrative.
You can also start up a dropshipping business with very little upfront cost, which also makes it attractive. But you might ask yourself what is in it for everyone involved? Well here's a quick breakdown:
Manufacturers or wholesalers:

These are at the beginning of the supply chain and for them, it's preferable to having to sell the items to retailers or deal with additional steps along the way. The dropshipper places an order and then the manufacturer or wholesaler fills the order. You get wholesale prices, the customer gets retail prices and you keep the difference.

Dropshipper:

The main reason is the profit without the need to be so directly involved with every facet of the traditional steps needed to sell and ship. Also, the variety you tap into — from shipping a single item to having the manufacturer or wholesaler dropship entire pallets for you — can be extra helpful in the process of making you money. 

Customer:

They benefit from getting comparatively low prices and having the order filled and sent to their home or business. They also shouldn't be able to know the difference between whether the items were sent directly by you or another entity.
Now that dropshipping has been clearly defined, let's talk about the simple steps that need to be taken in order to start such a business.
Step 1: Pick Your Product
This one might be the most simple step of all — you need to decide what you plan on selling. While knowing you have to do this is the easy part, the process that goes into doing it is a bit more complicated. Just saying you're going to sell, for example, flashlights sounds like a breeze but you need to factor in the following things when you find products to potentially sell:
Can I Turn A Profit On This?
If the answer to this question is not yes, then you're probably targeting the wrong product to sell. Because if you can't answer yes to this, then little else matters. This is a good opportunity to look for ways to maximize your profits. As an example, if selling a $10 item takes the same amount of work as a $1,000 product with a much higher profit margin built, you should consider the latter if possible. Of course, there must be a market for a good with a high price, but your goal should be to work smarter, not harder. 
Will The Costs Of Shipping Affect The Bottom Line?
If you're selling an item for $15 but shipping costs you $5, that might be too great of a cost for you to actually turn a profit. There are a few things you can do to bring the cost of shipping products down:
Focus on lightweight, non-fragile items so that you can ship inexpensively.

If you feel your way to profitability is through shipping higher-value, possibly heavier goods, make sure you can make enough money off each one or ship multiple units together to save money.

Focus on shipping in greater volume if possible. The more business you give to UPS, FedEx or a

third-party logistics

(3PL) company, it stands to reason you can negotiate a better price because those companies have access to better prices as well.

Unless it's essential to your business model, invest in more plain and readily available materials to ship your stuff. If you're shipping inexpensive HDMI cables for use on people's TVs or computer monitors, it's doubtful they expect the packaging to be very pretty. Conversely, if you're positioning yourself as a boutique or premium brand, this is unlikely to be an option.  
Do Customers Actually Want These Products?
You can use Google to determine if people are even searching for what you plan to sell. This might seem like a silly thing to have to sit down and consider but the last thing you want as a dropshipper is to be sitting around taking little to no orders and — even worse — not having any answer as to why. Establishing a conservative estimate on what you expect to be able to sell at the onset is important to both manage expectations and also see if it appears that the products you picked will be worth offering long-term.
This will also involve sitting down at a computer and using Google Trends to look for search terms that consumers are using in order to search for the type of products you're thinking about selling.
Can People Get This Product Locally?
If you lived in a small town where 10 other businesses sold strawberries, that would understandably not be your first choice. So here, you need to at least make sure you're not selling things that are readily available in close proximity to your customers. That doesn't mean the products you choose for your dropshipping have to be rare or exotic — just that if people can go to the local Walmart and pick them up for a similar price, they'll have much less incentive to order online from you. 
Of course, if your item is similar but has additional specifications that would make it more attractive or a unique aspect like the design, color or enhanced options, then iterating that will be important to customers so they realize that you add value. 
Do I Have The Ability To Rebrand The Items Dropshipped?
If you are starting a business, the last thing you might want is for the packaging of your products or the shipping materials to reflect that you're not the actual seller of the item or that your sourced items can be considered of low quality. Perception can go a long way when it comes to how consumers consider whether or not they'll buy your stuff.
If the wholesaler who is dropshipping on your behalf has an option to use more sophisticated product packaging, even if it is for a small additional cost, it might not affect your bottom line too much. However, it might be the difference between a sale and non-sale in a customer's mind, especially in a sea of similar competitors.
Step 2: Research The Competition
This was touched upon briefly above, but let's get deeper into the weeds and define what this truly means. You're looking for a sweet spot in the marketplace — you want there to be some competition for the product because that indicates there is demand for it, but you also must be mindful of who that competition is and make a determination on if you can beat them or not.
You will be going against every other dropshipper or retailer who is also selling those products and even if the space is not jam-packed, you could be going against some giants who have more resources, selections and possibly even the ability to sell for the same price or cheaper. However, if these companies are selling the same products, it should tell you that a sustainable business model must exist for it.
Conversely, if your research turns up no competition, it's imperative you figure out why that is. People aren't going to let free money not be made, so there could be a variety of reasons it's untapped:
So in summary, too much competition and little to no competition can be a recipe for disaster. While doing a bunch of research can seem boring and tedious, it can truly be the deciding factor between failure or success.  
Looking for a solution to store and ship your products seamlessly? Let R+L Global Logistics be your fulfillment and distribution partner.

Step 3: Find Your Dropshipping Supplier
Congratulations for making it through the first two steps. At this point, you must have picked out your products and done the research to realize you'd be in the competition sweet spot. At risk of making this article sound like each step is life or death, the next crucial aspect is finding the right dropshipping supplier.
While the idea of these steps are simple, the importance in nailing them cannot be overstated. Your potential suppliers naturally exert a lot of control over the customer experience, so if you partner with one that is unreliable in any way — whether it be late shipping, being unable to fulfil your orders or fulfilling your orders incorrectly — you'll run into problems.
There's a great likelihood that suppliers will be located outside of the U.S. and even overseas. So pay attention to their demonstrated ability to communicate clearly and quickly. Unless you're fluent in the native language of the supplier, it might be important to you that they're able to write and converse proficiently in English to conduct business.
A website such as Alibaba is great for connecting dropshippers and suppliers, and can allow you to test out different dropshippers to find the right fit for you. Alibaba itself will offer support in helping in that regard but — for the most part — it is up to you.
Another important thing to take into account is if the supplier you choose has the capacity to fill your orders as your operations grow. Even if the price and products they provide you are great, those aspects could be of little use to you if you have a great potential to expand yet can't because you can't get the amount of items you need.
There may be a point in your business where you're in need of on demand warehousing. To learn more about this, check out our article that covers on demand warehousing.
Step 4: Get Your Website Up And Running
So you've got a supplier ready to start helping you fulfill orders, you have to figure out how you're going to actually accept orders. As a dropshipping business, the most inexpensive — and probably most effective way — is having your own website.
The interface should be simple and clean. There shouldn't be a confusing setup or layout that hinders your customers' ability to place an order. You don't want to give the consumer a single reason to want to bounce from your site, least of all because they can't figure out how to go about the transaction.
In fact, a company such as Shopify could be very useful in this regard. Shopify is a company that offers solutions for ecommerce businesses where you can pick from simple website designs and a great platform that helps you and your customers complete transactions. When using Shopify stores, it can look like you have your own website or marketplace even when it is being hosted by another company. 
At least initially, especially if every cent is important while launching this new endeavor, it will be much cheaper than either hiring a freelance web and development team, or establishing one in-house. If you want to eventually develop your own website from scratch, you can once you are certain the business model is working and some positive cash flow begins occurring.
The website also further distances the connection between the fact that you are dropshipping. There's no shame in dropshipping, but if you want to create your own enterprise, it might be advantageous to not highlight that you're not producing the products yourself or that they are really being ordered from and fulfilled by an outside company. 
Step 5: Advertising To Attract Customers
You've got the killer products from the right supplier and now you've got your plan to have a healthy internet presence via an ecommerce store or other ecommerce platform. Yet even if you've done everything right up to this point, that doesn't guarantee that customers will be there waiting to place those important orders.
You're going to have to engage in some sort of advertising to let people know you exist. While just hearing the word advertising might sound expensive, it doesn't have to be at the initial level you'll need. There are several smaller things you can personally do to get the word out without spending too much money.
One of the most efficient ways to advertise might be to tap into the large audience already sitting on Facebook. Facebook ads are relatively cost-effective and will get your dropshipping business in front of many pairs of eyeballs. Other than just straight advertising, you can also give prospective customers special offers during your Facebook ad campaign. In this one respect, you'll be on level footing with other dropshipping businesses and even retail giants.
Besides Facebook, there are two other areas that you can give attention to that may not pay huge dividends right away. The first is compiling an email list; it could be as simple as having people create accounts to check out on your website, or allowing them to input an email address to get a discount. As your business grows and you have the contact information of more and more customers, you can advertise to them directly by emailing them.
The last thing to look at is getting the ball rolling to make Search Engine Optimization (SEO) work for you. The short description of what SEO is — it is setting up or creating written content for your site that will help it rank high when people search for certain terms on search engines such as Google or Bing. The point of doing this is so customers will see you in the search high enough that they'll be compelled to click on the link and then that will lead to a sale for you.
Steps 5 and 6 cross over into the realm of eCommerce which is a massive topic in itself. To learn more about the eCommerce side of things, check out our article on how to start an eCommerce business. 
Step 6: Analyze The Data And Make Adjustments
The stage is now set for you to begin selling and seeing if you're doing everything you can to maximize traffic and subsequent sales to your business. This means familiarizing yourself with Google Analytics or Facebook conversion pixel data. These allow you to figure out exactly how many of the clicks you get led directly to a sale and if it was from the particular platform.
The reason this is so valuable is you can get a real-time look, or a portrait over a certain period of time to see exactly what worked — and also what didn't. This allows you to shift resources from a less valuable area to one that's more valuable, or even eliminate products or promotions that have little to no interest from consumers.
These can even be helpful tools in clueing you in on when it's time to expand your business or even just stay the current course. If you don't already know, things change in the business world at a rapid pace. There is no standing still and analytics will assist you in knowing not only how to change but when the correct time is. 
Dropshipping With R+L Global Logistics
Now that you're well-versed in how to set up dropshipping as your personal business, give the supply chain experts at R+L Global Logistics. We can assist you with your dropshipping endeavors to make the steps in doing so even more of a breeze.
You can have your items shipped directly to R+L Global Logistics' warehouses, which are located strategically around the U.S. We will store them for you and then fulfill orders on your behalf when the time comes.
We also offer additional warehousing and distribution services that include but are not limited to the following:
Along with all of our services, you'll have the expertise of a fulfillment and logistics partner available at all times.. We'll go the extra mile to make sure your orders are accurate and in great shape when they reach your customers.
So where you're ready to figure out how to set up dropshipping and require the best in the business, give R+L Global Logistics a call today at 866.989.3082 for a free quote and learn more about how we can help your burgeoning business truly thrive.
Looking for a solution to store and ship your products seamlessly? Let R+L Global Logistics be your fulfillment and distribution partner.

Amazon is the king when it comes to online commerce in the United States, there's little question about that. So it stands to reason that anyone selling products to consumers would want to be on Amazon's prime platform. But maybe there's a valid reason why you don't want to sell through their website, yet don't know of any alternatives to selling on Amazon.
However, the online giant isn't the only game in town. There are many alternatives to selling on Amazon, plenty that could be just as good or possibly better depending on your objectives. Names like eBay, Walmart and other specialty sites can provide just what you're looking for. Keep reading for a full scope on the subject.
Just as important as the platform that you sell your products on is the partner that you choose for fulfillment and distribution. Our team at R+L Global Logistics has the experience and knowledge to handle this critical step in the supply chain. Request a quote today to find out how we can meet your supply chain needs.
Looking for a solution to store and ship your products seamlessly? Let R+L Global Logistics be your fulfillment and distribution partner.

Selling on eBay
If you only remember the days where you had to bid against others to secure your coveted goods on this website, then you haven't been on eBay — which is at the forefront of the Amazon alternatives — in quite some time. While you can still try to score a deal via the auction system, eBay now has two things that make it a great place to sell you products: Buy It Now and eBay Marketplace.
The first option, Buy It Now, is still linked to the auction system. But with Buy It Now, the seller can also set an exact price that they are willing to accept for a sale that will automatically purchase the item on the buyer's behalf. This isn't much different than a regular purchase since you're looking over a new or used product, deciding if the price is right and then checking out.
For eBay sellers, the Buy It Now option is used in conjunction with the auction system, so you can still receive bids on your products if that's your preference while setting a price that you're comfortable receiving that the buyer can trigger immediately. It is a win-win in that regard. eBay also has its marketplace, which is more like a traditional website setup for an online store. Here, you set prices like normal and customers buy.
The other major benefit to start selling on eBay is the secure marketplace. eBay has protections in place to protect both the buyer and seller and, in conjunction with accepting all major credit/debit cards and also its sister site PayPal, there are a myriad of safe ways to collect or make payments that should give both sides an additional peace of mind.
While it's not a "downside" per se, eBay does collect a percentage on each sale made. So you will have to factor that into the prices you set in order to still hit your intended profit margin. However, this is no different than Amazon in that regard, so it's not an additional cost versus selling on that site.
Selling on Walmart.com
Years ago, it would have been unfathomable to sell your ecommerce goods with America's largest brick-and-mortar retailer. But Walmart's major expansion into the digital marketplace has been massive and now allows online sellers to tap in to their 100+ million visitors to their website each month alone.
Besides the ability to reach a lot of new customers that you might otherwise not have access to, your items are listed right alongside Walmart's own listings. While there is a notation on your goods that they are being sold by an outside source, the listings aren't any different
Walmart marketplace doesn't make you pay a monthly fee to list items on their website like Amazon but you will be on the hook for a "referral" fee. Depending on what kind of commodity you're selling, you will be charged a percentage ranging between 6 to 20 percent on each item sold.
Walmart allows sellers to list goods in more than 35 different categories and — while the retailer's website is growing rapidly — there is still far less competition than on Amazon, which boasts over 2 million unique sellers. In addition, you will also see your products listed on Walmart's other site such as moosejaw.com, jet.com and shoes.com.
Unlike a new website that hasn't built credibility yet, the Walmart name is well-established and has the trust of consumers. Furthermore, Walmart accepts all major types of payments, so you can use a debit or credit card, or even some forms of electronic payment like PayPal.
Walmart.com, however, is not perfect for ecommerce sellers. Because Walmart's mission is to offer customers the lowest price possible, there will be pressure on you to do so as well. In fact, if you listed your item for what Walmart deems to be too high a price, it has the ability to de-list your items. And in another contrast to Amazon, you will be expected to handle customer service for consumers who purchase your goods. Amazon usually does this for its sellers.
Selling on Jet.com
This deserves its own analysis since it is owned by Walmart but operates as its own marketplace. Bought by the large retailer in 2016, Jet.com has a lot of cool features that both buyers and sellers enjoy. From a buyer's perspective, you can get additional discounts by taking small actions such as bypassing the option for free returns, providing your email address or adding a certain amount of items to your cart.
Sellers prefer it over other platforms in some cases because of its relative ease of use. You have to apply to be able to sell on jet.com and also have to be able to integrate into their Application Programming Interface, but their low fees and uncomplicated setup will entice both consumers and those selling their wares. Just a 15 percent commission is exacted by jet.com in many categories.
Selling on Target
This is fairly similar to selling your goods with Walmart but there are a few differences to consider. Target is only courting currently established businesses, so newcomers to the field might not be approved. Even if you are more experienced in the retail forum, Target accepts businesses only by invitation.
Target Plus — as its online sales business is known — does offer its affiliated businesses a personal storefront on its website and just like with Walmart, sellers are strongly linked to a trusted brand in the Minnesota-based company. Unlike Walmart though, Target's online presence is currently smaller.
Neither company offers you fulfillment options, leaving that to you or a third-party logistics (3PL) company you've contracted with to do work for you. Thankfully, we've got this covered for you. R+L Global Logistics is a full-service 3PL fulfillment and distribution provider. You can rely on us for all of your fulfillment needs.
Looking for a solution to store and ship your products seamlessly? Let R+L Global Logistics be your fulfillment and distribution partner.

Selling on Overstock
Overstock.com, like several on this list, had modest beginnings but has since grown into a billion-dollar enterprise. Selling on Overstock is not much different than doing so on Amazon or eBay and can be lucrative.
For a seller, you must be approved by Overstock in order to peddle your wares on their website and you'll be expected to handle all questions or returns, meaning Overstock doesn't deal with customer support on your behalf. It is free to register, however, and you should encounter reasonable transaction fees. For instance, items $25 or under see a $0.10 listing fee and 3 percent transaction fee.
Your listings can also be spruced up through bold text and other flair for an additional cost, so you'll need to create a budget beforehand to make sure you're not overspending on needless advertising.
As a potential negative for selling on Overstock, customers flock to the site in order to purchase name-brand items. So if you're selling off-brand or not widely recognized brands, then you might be better off elsewhere.  
Overstock doesn't have every category for items, but still emcompasses a wide range which includes but is not limited to:
Health & Beauty

Apparel

Home

Liquidations

Bed & Bath

Sports, Hobbies & Toys

Electronics

Jewelry 
For a buyer, the good thing about purchasing items on Overstock is your credit card info will only be shared with Overstock and not the third-party sellers, which becomes handy if you place multiple orders with different retailers on this site.  
Selling on NewEgg
If you're selling anything in the realm of electronics, whether it's computers, their accessories, video games or anything adjacently related, NewEgg might be for you. This online electronics giant has branched out to include some other product categories such as:
Apparel & Accessories

Health & Sports

Automotive & Industrial

Home & Tools

Hobbies & Toys

Office Solutions
As a seller, NewEgg is great for a few reasons. You just need to apply and tell the company about your business and there's a good chance you'll be accepted to begin listing your items for sale. You have the option to additionally promote your listings on the website and also do order fulfillment yourself or have NewEgg ship to the customers for you. As an additional benefit, NewEgg collects payments for you and then disperses them to you on a weekly basis.
The business does offer three tiered memberships for sellers: one is free, the Professional tier is $29.95 per month and the Enterprise tier is $99.95 per month. If you have a straightforward operation with 5,000 item listings or less a month, you can easily use the free tier. The two paid tiers do unlock more options and even discounts for sellers. As always, it's important to do your own accounting and see if a paid tier will be ultimately beneficial to your business.
And customers love NewEgg for its sterling reputation for selling a variety of goods at competitive prices while allowing for returns. 
Selling on Bonanza
Bonanza is another site where you can sell goods in a fashion like Amazon or eBay. While not as large as either of those companies, Bonanza does have some cool features that make it a worthy alternative to the traditional avenues of selling online.
For seller accounts, Bonanza sets up online marketplaces known as booths. This means instead of your items being listed all over the site, everything you're selling is on one page which customers will see after clicking on an item they've searched for initially. This is great since it might allow you to sell multiple products to a customer at once.
Reasonable fees are also a trademark of Bonanza, where if you sold an item for $20, you'd be charged just 3.5 percent — or 70 cents. If you're able to sell items for over $500, the percentage charged by Bonanza goes down as well. However, the site does institute a minimum of 50 cents per transaction, so this can cut into the sales of smaller valued products. 
For a slightly higher percent fee, the website will actually advertise your item on the internet. Also, there are a large amount of different categories to list items in and you can sell both new and used items on Bonanza. Like some other sites, Bonanza does highlight popular brands but doesn't make it mandatory for your items to be from well-known makers.  
Selling on Fruugo
Fruugo is more seller-friendly from the perspective that you aren't charged for a listing. You only pay a fee after the sale of your items. There are also no membership fees of any kind. You'll also receive a dedicated account manager to offer assistance and also be able to accept payments in many different forms and currencies, which are converted into your currency of choice.
Fruugo has more of an international flavor as a UK-based company that ships to many countries that comprise 28 unique languages. Fruugo also provides complete protection against fraud and also has designed its interface to be friendly to mobile phones, desktop and tablets.
The only potential downside, if you want to even call it that, is it's relatively new and small compared to other marketplace-style websites. Also, on certain items, the pricing seems to be inconsistent to what you can find at traditional retailers. So those are definitely things to keep an eye on. 
Selling on Alibaba/AliExpress
This is another option that is in its own category since it is somewhat specialized. Alibaba is the world's largest business to business marketplace. So you wouldn't be selling individual items to consumers, but both small and large-scale orders to other businesses. AliExpress takes it a step further as it is mostly used as a dropshipping marketplace, meaning that you purchase items from a country such as China and AliExpress fulfills the orders on your behalf, allowing you to make a profit without having ever had the products in your actual possession.
The great thing for sellers about Alibaba or AliExpress is you have access to millions of customers all over the world who go to the two Ali sites because they're trusted sources for inexpensive yet quality products in a large range of different categories. Alibaba, like some others on this list, have tiered memberships for sellers which run from a free basic membership that is somewhat limited to a premium one that unlocks all the options and benefits to the site.
However, Alibaba does share some of Amazon's negatives as well. Both marketplaces are very high in competition, so it can be somewhat hard to turn a profit.
Selling on Shopify or Square
These two options are grouped together because they share the same setup, which is different from the other ecommerce websites. Basically, with Shopify and Square, you are paying them a monthly fee to allow you to have your own webpage and marketplace where you can sell all of your products.
From there, you can build a website with pre-made options, so you don't need web design experience. Where Shopify and Square make their money is by being the platform in which payments are processed. Each takes a small percentage of the sale plus a small flat fee. You will do your own order fulfillment with these sites but it can be a preferred option if you'd like more overall control over your day-to-day operations.
These two sites also offer both customer and seller support, while also being able to share analytics with the seller to figure out why certain items sell well while others don't. The other cool thing about both Shopify and Square is you can use them on the go, like if you're in a real-life marketplace or festival selling your wares out in public. 
Selling on Craigslist or Facebook
Granted, this doesn't have the same luster as having your own listings or marketplace on a site like Amazon but they do have some benefits that could make them attractive to those looking to maximize their profits.
First of all, let's start with Facebook Marketplace. If you have a Facebook account, you can start a free marketplace profile and begin listing items. You have to list a price, description of the item and at least one photo, but that's all it takes to be up and ready to sell. This takes more care and time to sell locally since you'll be required to meet the buyer in person, which you should also do at a safe location during daytime hours to protect yourself. There are also not the same level of buyer or seller protections in place as Amazon. You will see pictures and profile information on Facebook, letting you familiarize yourself with the person you'll be dealing with, which is a positive. 
You can also choose to ship your items, but Facebook Marketplace — like many of the other sites — will charge a small percentage for any item not sold locally. This is of course safer than meeting in person but will cut a little more into your bottom line through shipping costs and Facebook fees. 
Craigslist is also an option but doesn't have the same level of safety. It might be completely unadvisable to ship items using Craigslist, since there's no buyer or seller protection in place. You're selling at your own risk. Craigslist does have a wide reach though, so selling locally could be lucrative. But just like meeting someone on Facebook, if you can't stomach the idea of doing most or all transactions in person, Craigslist will not be for you.
Order Fulfillment With R+L Global Logistics
If you're planning on pursuing alternatives to selling on Amazon, you could probably use assistance on some of the front-end logistics by helping with fulfillment and distribution services. So look no further than R+L Global Logistics to get that helping hand you could use to take your ecommerce business to the next level.
At R+L Global Logistics, we can offer everything you'd need to successfully sell on any ecommerce site from eBay to Walmart and all formats in between. First off, we have ample 3PL warehousing space across the country to safely and securely store and then distribute your valuable goods.
Next, R+L Global Logistics can offer to fulfill all of your orders, which means utilizing our pick and pick services them from the shelves or shipping entire pallets and sending them directly to your customers. In addition to this full implementation, we are always available with industry-leading customer service to address any questions or issues you might have.
So when you're ready to explore alternatives to selling on Amazon and need an outstanding partner to assist your operations, contact us via phone at 866-989-3082 for a free quote.
Looking for a solution to store and ship your products seamlessly? Let R+L Global Logistics be your fulfillment and distribution partner.